Total football goal for disabled fans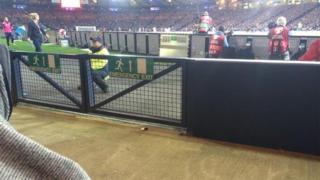 Disabled supporters say football still lags a long way behind cinemas, museums and other public buildings in terms of access and facilities.
Going to a football match is a full-on sensory experience in which a drama with an unknown ending will unfold in front of you.
The soundtrack is provided by the competing noise of two sets of rival fans, plus there's that sense of belonging to and being with your tribe.
And of course there's even the smell of that welcome half-time pie wafting around the stadium.
Long experience
Disabled people such as 28-year-old St Johnstone supporter Peter Holden, who has cerebral palsy and a learning difficulty, appreciate the whole experience as much as anyone.
Among the highlights stored in his personal memory bank from attending matches is one from 2015.
"When Danny Swanson scored that goal against Celtic and we beat them one-nil," he told BBC Scotland's Good Morning Scotland.
Peter is usually accompanied to games by his dad Andrew, who has long experience of taking people with disabilities to football matches.
In the 70s Andrew went to watch football with his brother, who has cerebral palsy, and he says in many ways it was better then.
"You could more or less just turn up and people would let you in to the ground," Andrew says.
"Some of the grounds now you have to advise your home club that you plan to attend the away match, and they have to send a list of all the disabled people who wish to attend.
"So you have to give prior warning."
Advertising boards
It means going to football, especially for away games, can't be as spontaneous for disabled people as going to the cinema or to a museum.
And even once inside the ground the problems might not be over.
Andrew cites one particular example from 2015.
"There was the very famous instance at the Scotland Germany game at Hampden where the disabled wheelchair users were seated behind advertising boards, which were there for television purposes, but they obscured their sight of the game," he says.
"The SFA rightly have rectified that and it won't happen again, and we've heard them talk about learning the lessons and so on, but really these things just ought not to happen at all."
Andrew says going to football is different to going anywhere else.
"My son, who has a part-time job in a supermarket, can go to work, can use public transport and can go to the cinema himself," he says.
"He can do all manner of things, he can go into restaurants, and in none of these places does he encounter anything like the problems he has in simply trying to attend a football match."
Experience deteriorated
In the biting cold of a Scottish east coast winter, long-term supporter Gordon Anthony joins the other fans nicknamed Arabs on matchday, where Dundee United are taking on Morton at Tannadice in the Championship.
Gordon's been registered blind for 12 years and was on the verge of stopping going to games as his sight and, consequently the matchday experience, deteriorated.
But he was spotted at a game with his dark glasses and white stick by volunteer Sam McFadzean, who does audio commentary for visually impaired fans.
He told Gordon about disabled access to the ground, with headsets offering play-by-play commentary specially-designed for blind people.
Gordon says it was a game changer.
"I'd bought a season ticket and decided that this would be the last one because I really couldn't make out what was happening on the pitch," he says.
"Now I can form an opinion of who is having a good game and who is not.
"I am hearing who's misplacing passes, who's missing tackles.
"I've got the commentary in one ear and that's what I am concentrating on, but I am very aware of the crowd.
"I can hear the people around me, the cheers, the groans, the claps, the applause.
"I can hear the away fans as well.
"You are part of the experience."
Away games
Dundee United's disability liaison officer is Moira Hughes, who also runs the busy ticket office.
She wants to take away some of those obstacles for fans with disabilities wanting to attend away games.
"We're fortunate as a club that we're not sitting at capacity like at Ibrox or Parkhead where, like most other fans, you have to plan in advance because there isn't as much space," Moira says.
"It should be in an ideal world that somebody, whether they are able-bodied or not, should be able to decide it's Saturday afternoon, the weather is nice, I fancy going to see my team.
"So, as a society, there's lots more things we can do to make that experience easier and better."
Improve access
The club offers a total of 27 wheelchair spaces but they are all taken and there's currently a waiting list.
The pressures on clubs in terms of equality law and health and safety rules are compounded by the difficulty finding the money to improve access.
While the higher echelons of the football universe can be awash with cash, for those in lower leagues especially, the struggle to survive financially from one season to the next never ends.
But Moira Hughes says a lot can still be done without spending huge amounts of money.
She says at Dundee United the starting point is to understand the needs of disabled supporters as individuals.
Blank sheet
"Our disabled supporters are just that, they are Dundee United supporters," she says.
"It's just actually having a conversation and saying 'what is it you are looking for?' and what we can do for you to find a balance somewhere.
"In an ideal world I would love to start with a blank sheet of paper and put lots of wheelchair access in.
"I see what Airdrie and Rangers have done regarding their sensory rooms but unfortunately we don't have the capacity without spending a huge amount of money to do many major structural changes."
Sensory room
Some clubs such as Rangers have introduced a sensory room with a calming atmosphere for people with autism or learning difficulties so they can attend matches without suffering from anxiety.
But Andrew Holden, of St Johnstone's Disabled Supporters Association, says too often football behaves as if the rules which apply to all other public buildings don't apply to them.
He says one Scottish Premier League ground segregates visiting disabled fans from the rest of the travelling support citing health and safety reasons.
"You can see quite clearly on the highlights of the game on BBC Scotland that there is a small group behind the goal sitting on their own, isolated and away from the main body of support," he says.
"If that would have been a group of transgender people or black people or Asian people there would be an outcry and rightly so.
"So why is it OK to do that with disabled people?
"I do not accept that health and safety is a reasonable or sufficient reason for discriminating and labelling people in that manner."
New criteria
A SFA spokesman said it aimed to ensure that the "safety and comfort of disabled spectators at football matches is of the highest standard".
He said: "To this end, we have worked with clubs through our club licensing criteria, with upgraded criteria brought into effect at the start of 2018 following input from the Scottish Disabled Supporters Association.
"Under these criteria, it is now a requirement for all bronze level clubs and above to have a Disability Access Officer in place.
"The new criteria also address the issue of away fans being situated alongside their families, with silver level clubs required to accommodate wheelchair users with fans of their own teams."
The Scottish government says that while significant progress has been made on stadium access they want to see improvements go further.
The spokesman added that they will continue to work closely with football authorities, clubs, supporters' associations, the Football Safety Officers Association Scotland and local authorities to ensure all supporters can have the safest and most enjoyable match day experience.
Up for the cup
Listening to games on the radio or watching them on the telly is one thing.
Being there is something else.
And for Peter Holden being able to see his beloved St Johnstone lift the Scottish cup in the 2014 final remains a precious moment, the kind of memory that people with disabilities have just as much right to as anyone else.