Sepsis awareness campaign launched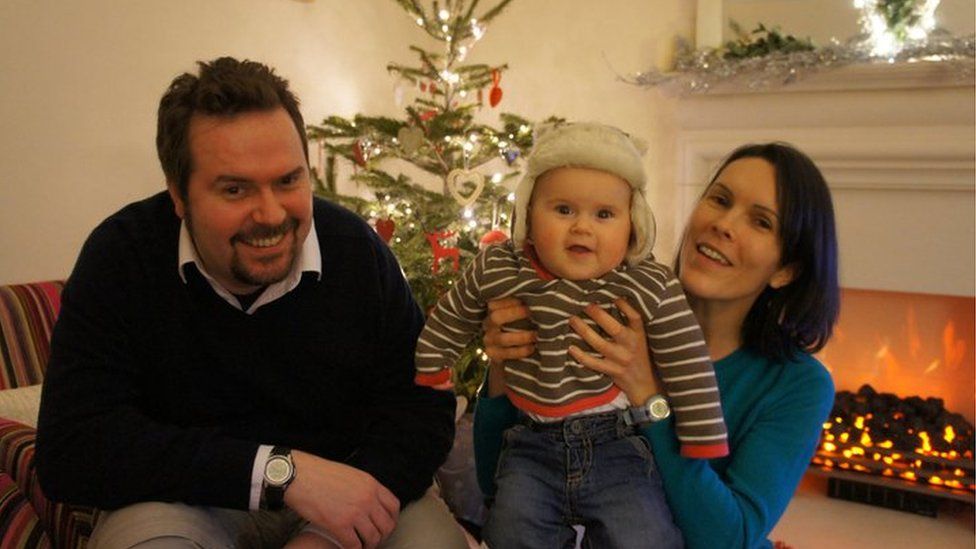 A campaign to raise awareness of the "silent killer" sepsis is being launched by the Scottish government.
It will highlight the signs and symptoms of the condition which kills about 3,500 people in Scotland every year.
Campaigners have welcomed the move, describing it as a "game changer" which could ultimately save lives.
The publicity drive on radio, print and social media is expected to reach more than 1.3m people across the country.
Posters outlining the warning signs of sepsis will also be displayed in every community pharmacy.
It has been backed with £70,000 of Scottish government funding and is being delivered with Scotland's sepsis charity FEAT and Finding Your Feet.
Health Secretary Shona Robison agreed to the campaign last September after meeting with campaigner Craig Stobo.
He lost his GP wife Fiona, 38, and their unborn daughter, Isla, to sepsis six years ago.
Mr Stobo, who founded the Fiona Elizabeth Agnew Trust (Feat) in the wake of the tragedy, said it was a "milestone day" for sepsis awareness in Scotland.
"Feat, Scotland's sepsis charity, is delighted to be launching this nationwide campaign in partnership with the Scottish government," he added.
"We have pressed for the need to raise awareness of this killer condition and are confident that this Scotland-wide campaign will be a game changer in increasing the public's understanding of the symptoms of sepsis and the quick action needed to save lives.
"We are proud to provide additional funding for this vital campaign and while we can't bring back those lost to the condition, we dedicate this campaign to them and pledge to continue working towards the eradication of sepsis."
Sepsis, also known as septicaemia or blood poisoning, is the body's reaction to an infection.
It starts with an infection that can come from anywhere - even a contaminated cut or insect bite.
Normally, your immune system kicks in to fight the infection and stop it spreading.
But if the infection manages to spread quickly round the body, then the immune system will launch a massive immune response to fight it.
This can also be a problem as the immune response can have catastrophic effects on the body, leading to septic shock, organ failure and even death.
Sepsis needs to be spotted and treated quickly, usually with antibiotics, before it spreads.
Medics say that for every hour's delay in antibiotics, the chances of dying from sepsis increases.
The publicity drive has also been welcomed by actor Jason Watkins, a high-profile sepsis campaigner who lost his daughter to the disease seven years ago.
In a series of tweets, the W1A star commended the Scottish government and called on the UK government to follow suit.
Later Ms Robison will meet medics at University Hospital in Wishaw who have developed an early-warning system for the early diagnosis of patients with sepsis.
She said: "The Scottish government is committed to raising awareness of the dangers of sepsis.
"One person every four hours dies as a result of sepsis which is why it is so important this campaign, backed by £70,000 Scottish Government funding, will highlight the symptoms of this often-silent and often-deadly condition to millions of Scots.
"While mortality rates from sepsis have fallen by 21% since 2012, there is still more to be done and I am confident this campaign will play its part in equipping the public with a better understanding of the signs and symptoms."
Calum McGregor, NHS Lanarkshire consultant acute physician and national clinical lead for acute care with Healthcare Improvement Scotland said: "Sepsis can lead to shock, multiple organ failure and even death. Early treatment with appropriate antibiotics can reduce mortality.
"Sepsis can be difficult to recognise, and many of the symptoms can be attributed to other conditions. Five symptoms and signs to be aware of are a change in behaviour such as confusion, cold or blotchy hands and feet, uncontrollable shivering, very high or low temperature, and reduced urine output.
"Recent data suggests that for every hour's delay in antibiotics, the chances of dying from sepsis increase so it is vital we get people the treatment they need as quickly as possible."
Early symptoms of sepsis in older children and adults include:
a high temperature (fever) or low body temperature
chills and shivering
confusion
cold or blotchy hands and feet
not passing as much urine as normal
Symptoms in young children include:
looks mottled, bluish or pale
very lethargic or difficult to wake
abnormally cold to touch
breathing very fast
a rash that does not fade when you press it
a seizure or convulsion
Related Internet Links
The BBC is not responsible for the content of external sites.