Four-week deadline to use Scottish paper money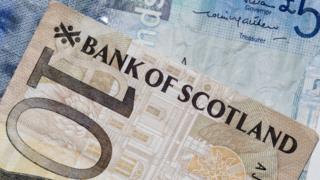 There are now less than four weeks left until all Scottish paper £5 and £10 notes are withdrawn from circulation.
The Committee of Scottish Bankers is encouraging the public to spend or exchange these notes before 1 March.
Issuing banks will still accept all Scottish money from customers after the deadline and paper notes may be replaced with plastic ones.
This deadline coincides with the withdrawal date for The Bank of England's paper £10 note.
A spokesperson for the Committee of Scottish Bankers said: "Thanks to the work that the issuing banks have already undertaken to swap the older paper notes with the more secure, environmentally friendly polymer notes, the majority of £5 and £10 notes have already been replaced with polymer.
"We have set a deadline for using paper £5 and £10 notes as 1st March. The Scottish note issuing banks will continue to accept old paper based notes and there are currently no plans to change this."
What is happening?
After the launch of polymer £5 and £10 notes by the Scottish note issuing banks, the older paper versions of these notes are being removed from circulation.
Scottish issuing banks will accept paper notes in pay-ins from customers.
Non-customers can exchange their banknotes at the respective issuing bank up to a limit of £250.
Retailers may refuse to accept Scottish paper £5 and £10 banknotes from 1 March onwards at their own discretion.