Scottish A&E waiting times improve after slump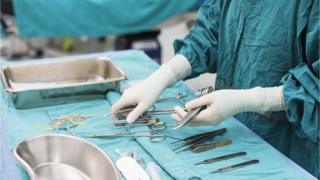 The performance of Scotland's A&E units has continued to improved after reaching a record low around new year.
The latest weekly statistics show 89.7% of people attending emergency departments were admitted, transferred or discharged within four hours.
This was up from a record low of 77.9% in the first week of the year.
Meanwhile, other statistics showed the number of planned operations cancelled for non-clinical reasons was 778 in December, up 17% on the previous month.
This was despite a 20% drop in the number of operations planned.
Flu pressures
The rapid rise in flu cases at the start of this year and a spell of severe weather led to pressures on emergency care which resulted in health boards having to postpone planned elective operations.
Statistics compiled by the BBC suggest that, in January, the number of operations cancelled for reasons such as lack of beds or doctors continued to rise but the official figures will not be available for another month.
The BBC figures showed there were 1,244 operations cancelled for non-clinical reasons in the three weeks to 26 January.
Since May 2015, when the figures first began being published, the highest figure was 868, in January 2016.
A&E waiting times have been published weekly since February 2015.
The figures for the last week of December and the first week of January were the worst since these statistics began.
They came as the number of flu cases reached a peak, almost five times the level of the previous year.
In the week to 28 January, the figure for those dealt with within four hours rose to 89.7%, compared with 92.5% at the same time last year.
The Scottish government target is for 95% of all patients at A&E to be admitted, transferred or discharged within four hours.
The latest figures show there were 24,262 attendances at emergency departments.
The show 289 patients spent more than eight hours in A&E and 72 spent more than 12 hours.