Scottish undercover policing inquiry 'not necessary'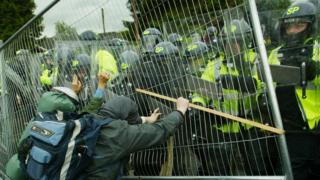 Justice Secretary Michael Matheson has dismissed calls for a public inquiry into undercover policing in Scotland.
A new watchdog report has found no evidence that Police Scotland officers infiltrated social justice campaigns.
However, opposition politicians call the report a "whitewash" and want an inquiry set up, after the UK government refused to extend its ongoing inquiry north of the border.
Mr Matheson said a Scottish probe would not be "necessary or proportionate".
The Pitchford Inquiry is examining the conduct of undercover Metropolitan Police officers in England and Wales, but UK ministers have said it is "not possible" to extend it to Scotland despite claims of officers also spying north of the border.
Scottish ministers said they were "extremely disappointed" by this, but Mr Matheson rejected calls for a new probe in light of a report on undercover policing in Scotland which showed "no evidence of any systemic failings".
Her Majesty's Inspector of Constabulary (HMICS) said undercover officers had been used effectively to tackle serious crime in Scotland, and said the tactic was not widespread.
The English inquiry was ordered after revelations that undercover police officers had formed intimate relationships with social justice and environmental campaigners, with at least one fathering a child.
But the HMICS report concluded that Scottish undercover officers had been well regulated in the 423 operations they had been involved in since 2000.
It said: "The use of undercover officers is a legitimate policing tactic and has been used effectively in Scotland.
"Operational activity has primarily focused on drug-related offences, child sexual abuse and exploitation, human trafficking and exploitation and serious organised crime."
'Fully complied'
The report said that all the authorisations for the use of undercover officers it had examined fully complied with the regulations and codes of practice.
And it added: "There was no evidence that undercover advanced officers from Police Scotland had infiltrated social justice campaigns or that officers had operated out with the parameters of the authorisation.
"The extent and scale of undercover deployments in Scotland between 2000 and 2016 demonstrate that the use of undercover policing in Scotland cannot be considered to be widespread."
The report also said the capacity and capability of Police Scotland to carry out undercover operations relating to online crime and serious organised crime was currently "limited" and "needs to be further developed".
'Police wanted me to spy on campaigners'
Environmental campaigner Tilly Gifford wants a public inquiry to investigate claims that she was "targeted" by undercover police officers who wanted her to spy on fellow activists.
In 2009, Ms Gifford was working with Plane Stupid, which was protesting about the environmental damage done by airport expansion.
She was arrested during a protest at Aberdeen Airport and police wanted her to feed them intelligence on the group in exchange for cash.
Justice Secretary Michael Matheson later confirmed to MSPs that Scotland would not be holding an inquiry similar to the one in England - leading to criticism from opposition parties.
Mr Matheson said: "I appreciate there is some legitimate public concern about undercover policing activity in Scotland, and I took those concerns into account in reaching a decision. However, on balance, I consider that establishing a separate Scottish inquiry is not a proportionate response.
"There is no evidence of any systemic failings within undercover policing by Scottish police.
"I have again written to the home secretary asking her to reconsider extending the terms of reference of the undercover policing inquiry to allow it to look at the activity of English and Welsh police units in Scotland."
Look back on the undercover policing statement with Holyrood Live
Labour's Neil Findlay demanded a public inquiry, saying that "the police inspecting the police in this whitewash simply will not do".
Justice subcommittee on policing convener John Finnie, a Green MSP, also urged Mr Matheson to set up his own probe, telling him: "You need to take charge of this situation, you need to call an inquiry. You need to assert your independence in relation to this. This is a Scottish matter, please deal with it."
And Lib Dem Liam McArthur also voiced "disappointment" about Mr Matheson's decision, urging him to "reconsider".
Mr Matheson told members that he would look at fresh evidence if it came forward, but said that at present there was not enough to justify a separate Scottish probe.
Holyrood's parties had been united in calling for an extension to the Pitchford Inquiry, which was set up in England and Wales to investigate allegations of misconduct by undercover officers.
There are allegations that undercover Metropolitan Police officers had fathered children and caused miscarriages of justice, with claims of this activity extending to Scotland.
Most of the concerns centre on the activities of officers working with the National Public Order Intelligence Unit.
G8 summit
They included Mark Kennedy, one of five officers known to have had relationships with women while undercover, who is alleged to have infiltrated environmental groups ahead of the G8 summit at Gleneagles in 2005.
The HMICS report said Kennedy accounted for the majority of the NPOIU deployments to Scotland, with the officer visiting Scotland on at least 17 occasions between 2004 and 2010.
The report stated: "These were not long-term deployments, generally amounting to no more than a few days and over the course of his confirmed visits to Scotland his average stay was about a week.
"Apart from the G8 Summit, which was the main focus of his activity, we consider that there was no routine engagement with Scottish police forces and that the service would have been unsighted on his visits."
The report said Kennedy was one of nine NPOIU undercover officers known to have been deployed to Scotland between 2003 and 2010.
But it concluded that the deployment of undercover officers to support the police security operation at the Gleneagles G8 summit was undertaken with the full knowledge, co-operation and the authorisation of Tayside Police.
The summit, which was attended by the heads of state of the eight main industrialised nations, was the largest policing operation of its kind ever seen in Scotland.