Getting creative with funding repeats same mistakes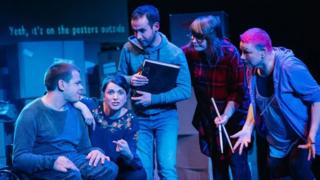 Creative Scotland's u-turn over some of its arts funding changes has left questions about how decisions are made and communicated.
"Communication has been at the heart of many of the recent failings of Creative Scotland so it is ironic that we spent all afternoon waiting for a statement from the board."
I wrote those words five years ago after a row about arts funding in which the community rose up in anger, not just about the cuts but about the way they were decided and communicated.
However, the same words could just as easily have been written on Tuesday after the latest Creative Scotland funding row.
It follows an emergency board meeting to discuss the controversial axing of funding for 20 Scottish arts organisations, among them Birds of Paradise, Catherine Wheels and NVA.
Decision-making
Five years ago, they called for a new system, a clearer structure and better use of artists and their expertise in decision-making.
They also acquired a new chief executive, Janet Archer, who on Tuesday admitted there were things her current board could have done better, not least when it came to communicating.
It is worth bearing in mind, that this latest row is not about funding.
The Scottish government committed an extra £6.6m of funding before Christmas to tackle the drop in lottery money.
Instead it is about Creative Scotland's handling of that funding, in particular the decision to introduce 19 new organisations at the expense of 20 established ones.
At the time, the brief from the board via the press office was that the 20 organisations would find resources elsewhere.
The Fringe Society and Ayr Gaiety, for example, had established support from their respective local authorities.
The theatre companies would be able to access a new £2m touring fund, Creative Scotland said.
The message was that these companies had been selected because they were already successful on an international level. These companies would not sink without trace, they said.
But sadly, that message was not communicated to the companies.
Birds of Paradise and Lung Ha, the mainstay of the disability theatre sector in Scotland, and Catherine Wheels and Visible Fiction, the country's most prominent children's theatre companies, saw it as a serious undermining of decades of work.
They argued that without Regular Funding, a guaranteed annual income, they would be unable to stay in business.
Campaigners were quick to back their cause, and on Tuesday came the result they had been hoping for.
All four companies, along with the Grammy award-winning Dunedin Consort, will be returned to Regular Funding, at standstill levels.
Relief was palpable but they insist it is not over.
They want to know how this came to happen, why the decision was made in the first place and what will now happen to the remaining 15 companies who have lost their funding.
Ayr Gaiety's Jeremy Wyatt says he will fight on.
Without their funding, there's a Regular Funding black hole in Ayrshire, he argues.
Fire Exit, whose latest show, their most ambitious to date, opens in Glasgow next week say without reinstated Regular Funding, the company will close next year.
Their artistic director David Leddy said they did not even receive a phone call about the news. They read about it on social media.
The Fringe Society - which also lost its Regular Funding - said it was delighted to learn about the reinstated companies but went on to say "questions remain, however, about the decision-making process, the management of communications and the negative external impact".
They, like many, will now approach Creative Scotland to challenge the decision and ask for further answers.
Janet Archer said the most important outcome of the last week was to emphasise to organisations that she - and others at Creative Scotland - are ready to listen and, as she has shown, prepared to climb down when necessary.
Even if the other 15 companies are reinstated - and that looks unlikely - there is still a problem with the body's funding process, and that dates back to that earlier row.
Long-term funding
That statement from the board in 2013, when it eventually arrived, promised a change in operational structure, to give staff freedom to use their expertise and make better use of artists' knowledge.
They said there would be clearer funding streams and processes and a change of language and tone.
It also promises an end to strategic commissioning and more long-term funding over a period of years, rather than the individual applications.
It concluded with a request for "time to be allowed to do this".
Five years on, it seems like a sensible starting point.
Perhaps the time is now.