'Barbaric' post-mortem rule to be reviewed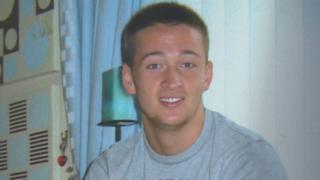 Scottish law officers are reviewing the rules on post-mortem examinations after the "barbaric" treatment of the family of a man killed in Edinburgh.
Shaun Woodburn's parents called for changes after they were left waiting to bury the 30-year-old dad while two examinations were carried out.
The defence have the right to order a second post-mortem examination.
But Justice Secretary Michael Matheson said it was "possible that improvements can be made".
In a written answer to a question from Labour MSP Kezia Dugdale, he said defendants in court cases were allowed "equality of arms", therefore, could request their own post-mortem examinations.
But he said legal officials were "currently working with forensic pathologists on a revised post-mortem examination protocol that may help reduce the number of further post mortem examinations instructed by the defence."
Mr Woodburn, a junior footballer and architectural engineering graduate, died after he was punched outside an Edinburgh bar by Mohammed Ibnomer in the early hours of New Year's Day 2017.
Ibnomer, then 17, was sentenced to four years of detention for the culpable homicide - a punishment which Mr Woodburn's mother Denise Syme said she was "very shocked" by.
The family have also expressed anger at the legal system, which meant Mr Woodburn's body was not released to them after they had identified him because Ibnomer's defence had requested a second examination of the body - before the first had even been carried out.
Speaking at Holyrood on Thursday, the victim's father Kevin Woodburn told BBC Scotland he was "delighted" to hear that changes were being considered, describing the system as it stands as "just wrong".
He said: "Having gone through the procedure and actually identified my son, and spent a few moments with him, which was actually a lovely experience - to then come out and be told that there would be a second post-mortem, it was horrific.
"You're sitting there having this told to you, with no control over the situation, and it's medieval. It's barbaric. Why do we need to have two separate post-mortems?
"Why can we not have one post-mortem with a representatives from defence and prosecution?
"I understand that there can be circumstances, medical grounds, disputes over causes of death, I understand that. But there can still be a more humane way of doing this than having a system that dictates that an accused party has this right to a second post-mortem, and will use that right just because they can."
Mr Woodburn said the present legal system was "geared up towards the legal fraternity" rather than having "empathy" for victims.
He said the justice process "just needs to take a step back and talk to normal, ordinary people, and listen to their experiences, and most important of all actually act on them and do something".
He added: "We're not talking about big massive changes that are needed here. It's essentially just a bit of common decency, a bit of empathy with people's situation. The fundamental thing we're asking for is a bit of decency."
'Further improvements'
Mr Woodburn was in the public chamber at Holyrood on Thursday when Ms Dugdale again raised the case with the justice secretary.
Mr Matheson said both he and First Minister Nicola Sturgeon had been "struck by the dignity" shown by Mr Woodburn's parents when they met them last month, and publicly offered his condolences.
The justice secretary said "a number of steps to enhance the rights of victims" had been taken, and said it was "important that we continue to listen to the experience of victims and their families and consider further improvements that can be made".
Mr Woodburn said his meeting with Ms Sturgeon and Mr Matheson had been scheduled for one hour but had ultimately lasted more than three, saying this "spoke volumes" about how they were "genuinely interested" in the case.
He said the first minister had been "extremely sympathetic", adding: "It is my hope that with her support, the powers that be can look again at this procedure and change it so that the victims and their families do not have to endure any more pain than that which they have already endured when losing a loved one."