Detained Sikh activist held for 100 days without charge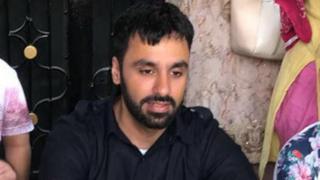 The family of Scottish Sikh activist Jagtar Singh Johal have begged for answers 100 days after he was arrested in India.
The 30-year-old, from Dumbarton, has regularly appeared in court in Punjab accused of involvement in murder and conspiracy to murder.
His family said he is innocent and the Punjab authorities are violating Mr Johal's rights.
The Scot has not been charged with any crime.
He was arrested in Punjab on 4 November, just over a fortnight after his wedding and was accused of conspiracy to murder Hindu leaders. He was later accused of being involved in the murder of a Christian priest.
Indian authorities said he was being investigated under seven counts of aiding and abetting of murder.
Mr Johal denies the claims and his family said no charges had been brought despite him now being held for 100 days.
'Helpless'
At a press conference to mark the milestone, his brother Gurpreet Singh Johal said: "Jaggi needs to be brought back to his family, to where he was brought up.
"He has not done anything wrong.
"If he had done something wrong then the authorities would have charged him by now.
"A hundred days have elapsed and no charge has been filed. Instead the Indian authorities have sought another 90 days."
He is perplexed at the situation and why they need more time when they have been so far unable to press charges.
Mr Johal's father and grandmother were present at the press conference.
His brother says the situation is taking its toll on the family: "They are helpless.
"My gran and my granddad are in bits.
"They lost their daughter 10 years ago and now their grandchild is in a prison in India and it is even harder and they are helpless in what they can do."
"Free Jaggi Now" campaigners say Mr Johal has suffered torture in the 100 days he has been held without charge.
They claim he has had limited access to his gamily and to a lawyer, and also that their reports of torture to the authorities have not been investigated.
The family's local MP Martin Docherty-Hughes says the Foreign Office have not done enough: "The call is very clear to the Foreign and Commonwealth Office and to the Foreign Secretary Boris Johnston to up their game and recognise Jaggi's family require their fuller support in tackling these accusations in India.
"There is no way to defend Jaggi.
"And if there are to be no charges the Indian authorities have to get on with it and let him go."
Josie Fathers from anti-torture charity Redress says the situation is severe: "We want to make sure Jaggi's rights are protected, the allegations of torture and ill treatment are investigated fully and that he receives an independent medical examination as soon as possible.
"We need to make sure he receives the medical care he needs and has private visits from British consulate staff and his lawyer and his family.
"We are extremely concerned by the nature of his allegations and that is why we took his case to the UN."
The Indian High Commission says the case against Mr Johal is following due process.