Arts body Creative Scotland appoints new chairman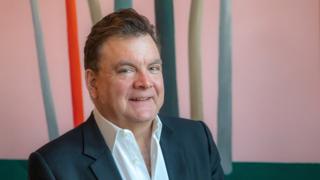 Creative Scotland has announced the appointment of Robert Wilson as chairman to its board.
Mr Wilson is co-founder of sculpture park Jupiter Artland Foundation and was previously chairman of the Edinburgh Arts Festival.
He succeeds interim chairman Ben Thomson who was appointed following the death of Richard Findlay last year.
The appointment follows the resignation of two board members in a row over the latest round of arts funding.
The public body which supports the arts, screen and creative industries received criticism for plans to cut funding to five arts firms.
It later reversed the decision when the organisation found £2.6m of additional funds after reviewing its budget.
The part-time appointment of chairman attracts a daily rate of £275 for four days commitment each month.
'Future strategy'
Culture Secretary Fiona Hyslop welcomed the appointment saying Mr Wilson brings a "wide range of leadership experience in the commercial, philanthropic and charitable sectors, with particular experience of the arts, including festivals and the visual arts."
"I welcome the leadership that he will bring to Creative Scotland in taking forward their future strategy and supporting Scotland's vibrant creative sectors."
Previously, Mr Wilson has served as trustee to a number of organisations including the Royal Botanical Gardens Edinburgh.
He is also chairman of The Barcapel Foundation, Prostate Scotland and a natural medicines producer.
Mr Wilson said: "I look forward to working with my fellow colleagues from across all aspects of the sector to celebrate and champion the vibrant cultural scene that belongs to Scotland."
His first engagement as chairman will be at the Creative Scotland's board meeting on Thursday.
ANALYSIS - The man who commissions art
By Pauline McLean, BBC Scotland arts correspondent
Robert Wilson is first and foremost, a businessman. The founder and chair of Nelsons, a natural medicines company based in Edinburgh.
But he's surrounded by art - quite literally in the case of the 120-acre sculpture park he set up 10 years ago on the outskirts of the capital with his wife Nicky - and it's that, more than anything, which has landed him the job of chair at Creative Scotland.
From Charles Jencks' undulating landforms, to Laura Ford's weeping girls in the woods, he's been responsible for commissioning more than 30 artworks, with more to come in this anniversary year (including a dramatic swimming pool sculpture by Joana Vasconcelos).
More importantly for his latest role, in which he'll have to oversee an increasing amount of artists and work, applying for an eventually decreasing pot of funding (the Scottish government's attempt to provide a stopgap for a drop in Lottery funding won't last beyond the next three years) he is well versed in the art of juggling public money and private partnership.
What started as a private project, in the gardens around their own home, now revolves around an educational foundation. Their ambition is to have every school child in Scotland engage with Jupiter Artland. Much of the cost is met by ticket prices from their regular adult visitors, with more than 80,000 people expected over the summer season.
Elsewhere, he's chaired the Edinburgh Art Festival and is a trustee of both Little Sparta Trust and Dovecot so he has a long and successful track record in the arts.
There'll be those who'll complain he's too focused on the East side of the country, or on the visual arts sector. Others will point to his involvement in the recent debacle at Inverleith House - he chairs the Arts Working Group which promised a new regime and a new board in October last year.
But his biggest challenge on Thursday at the first board meeting he chairs, will be to restore some sort of confidence in Creative Scotland and its decision making.
Enormous task
The body has already committed to a full review of its funding strategy, and has said it wants to hear from as many artists as possible but there are still many questions about the recent raft of funding decisions, some of which are bound to be asked by the parliament's culture committee on Thursday - which Creative Scotland's CEO Janet Archer and interim chair Ben Thomson are due to attend.
Why did the board agree to cut funding from 20 of the country's most established arts organisations if they weren't - as one member has suggested - in full possession of the facts? Why were five companies reprieved, but not the other 15?
For theatre companies like Fire Exit, it's business as usual. Their biggest and most ambitious show to date, the Last Bordello, opens at the Tron Theatre in Glasgow tonight. Despite that, the company face closure, having lost their regular funding in the latest round.
Director David Leddy said: "It's not realistic to expect work of this standard on a shoestring.
"We have toured the world for a decade, with work on four continents in four languages, but you can't do that with people working in between in a coffee shop."
It's a concern which the new chair will hear from every sector, from every part of the country.
From those with no funding, from those with standstill funding, and those who never had funding in the first place. His task is enormous. To rally his board, and rebuild confidence in Creative Scotland's decision making.