New childcare scheme for Scots parents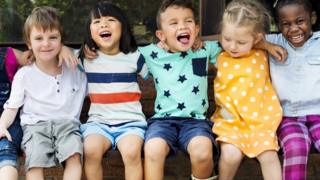 A scheme to provide up to £2,000 towards the annual cost of childcare will be available to Scots working families from Wednesday.
The UK Treasury said about 200,000 carers would be eligible for the support, which contributes towards the cost of children up to the age of 12.
The scheme will see the UK government pay £2 into a childcare account for every £8 paid in by parents.
Glitches in the HMRC website has caused problems for its rollout in England.
The problems resulted in thousands of people in England struggling to either set up the tax-free accounts or access money they had already paid into them.
The new scheme will replace employer-supported childcare, including "childcare vouchers", which are currently only available to parents if their employer offers it.
'Take advantage'
The previous voucher scheme is due to close to new entrants from April 2018, but parents who are already part of it will be able to continue in the scheme as long as their employer offers it.
The new account will pay towards the costs of regulated childcare, including nurseries, childminders and after school or holiday clubs.
Parents, including self-employed people, will be able to access the new account by visiting the website www.childcarechoices.gov.uk.
Liz Truss, chief secretary to the treasury, said: "All eligible parents with children under 12 can now apply through Childcare Choices and should take advantage of the available support."
The Scottish government is committed to increasing free early learning and childcare provision from 60 to 1,140 hours from 2020 with trials ongoing in several areas.