Met appoints former Scottish police chief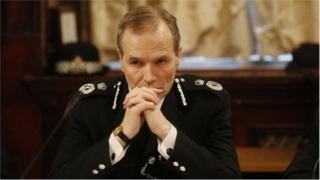 Sir Stephen House, the former chief constable of Police Scotland, has been appointed as an assistant commissioner in the Metropolitan Police.
He was in charge of policing when Scotland's regional forces merged.
The appointment will see Sir Stephen take charge of disclosure policy and practice.
Disclosure has become a contentious issue following claims that defence teams in rape cases may not have been given all relevant evidence.
Forces across the country are looking again at thousands of rape prosecutions.
This follows the case of student Liam Allan, 22, whose trial collapsed when it emerged that messages which cast doubt on the claims against him had not been provided to his lawyers.
'Huge change'
Metropolitan Police Commissioner Cressida Dick said Sir Stephen would bring experience of leading "huge change programmes" to his new role in London.
Sir Stephen stood down from Police Scotland in 2015, saying the time was right for him to take up a new challenge.
His departure followed controversy over the deaths of John Yuill and Lamara Bell, who lay for three days undiscovered following a car crash on the M9 motorway.
The crash had been reported to police but officers later admitted it had not been followed up.
Sir Stephen's time at Police Scotland also saw the force subject to scrutiny over policies such as the deployment of armed officers on routine duties and the use of stop and search powers in relation to children.
Since leaving Police Scotland, Sir Stephen has been working in the private sector as a consultant.
Ms Dick said: "There is a huge amount of transformation taking place within the Met and at the same time we are dealing with rising demand and big operational challenges.
"I'm really pleased to appoint Steve to this role. He brings huge operational experience having previously served at senior levels in the Met and been Chief Constable of Strathclyde Police and then Police Scotland.
"He has also led some huge change programmes, most notably bringing together eight forces to form Police Scotland."
She added: "Having worked with Steve I know he has a passion for policing and public service that will be a great addition to our team."
---
Sir Stephen House's career
1981 - Joins the police force in Sussex
1998 - Becomes assistant chief constable in Staffordshire
2001- Joins the Metropolitan Police Service
2005 - Assistant commissioner at the Met
2007 - Chief constable of Strathclyde Police
2012 - Chief constable of new Police Scotland
---
Sir Stephen said: "I am delighted to have the opportunity to return to the Met, at such a busy and challenging time.
"I joined the police to serve the public and it is an honour to be able to return to the Met and work as part of a really talented team to protect the public and fight crime in London.
"London is a fantastic city and deserves world class policing. It is exciting to return to the Met at a time of transformation and to be a part of the effort in delivering that."
The Met said Sir Stephen's contract would run for five years and he had taken the decision not to draw his monthly pension for the duration of the contract.