Forced labour family preyed on workers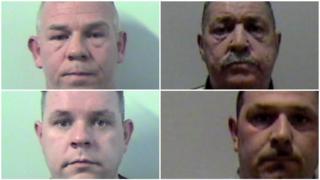 Three men from a Gypsy Traveller family have been found guilty of abduction, violence and intimidation against men who worked for them.
Robert McPhee and his son-in-law John Miller were convicted for the crime of servitude - holding men against their will and forcing them to work for little or no money.
James McPhee was found guilty of assault and abduction.
Another man Steven McPhee pleaded guilty to assault earlier in the trial.
The men were found guilty of more than 20 charges between them, dating from 1992 to 2016.
A five-week trial heard they preyed on vulnerable men - eight in total - from troubled backgrounds.
The men were promised work doing jobs such as mono-blocking driveways but were held captive and made to do mammoth shifts for little or no pay.
They were brutally punished if they complained or tried to escape.
One tortured victim told how he was battered and "taught a lesson" when he tried to get away.
Another lived in a caravan with no water or toilet - before later being told he was "owned" by the family.
Jurors heard further evidence of a worker "left cowering like a dog" due to the abuse.
The gang denied the charges claiming they were picked on by "overzealous" police.
They claimed the family had shown "kindness, generosity and tolerance" to workers.
The group were lead by 65-year-old Robert McPhee - nicknamed The Tank Commander.
Robert McPhee - known as Bobby - was convicted of 14 charges, James McPhee eight and John Miller was found guilty of two.
The catalogue of crimes included abductions, assaults and holding workers against their will or in "servitude".
Steven McPhee also stood trial, but near the end of the case he admitted to assaulting one worker.
The family stayed at a number of traveller sites across Scotland including one in Bathgate, West Lothian, and another in Larkhall, South Lanarkshire.
More recently they had a base at Curryside Piggery in Shotts, South Lanarkshire.
A bit of property
James Keith was a homeless teenager when he was approached.
He was "scared" of Robert McPhee who dished out beatings if more work was not generated.
Mr Keith later fled in terror, but remembered being "captured".
He told the trial: "You had no option, but to go back. You did not get an option."
He ended up working for James McPhee - who said he had "bought" him from his father.
He said he felt "like a bit of property" and was told it would take "a good few grand" to release the hold over him.
James Keith got to know John Anderson - another victim who regularly suffered - and later married his sister Christina.
'Taught a lesson'
One occasion in 1999 he escaped to her home in Paisley, Renfrewshire, but James McPhee tracked them down and told his wife: "You are divorced now".
Ms Anderson told the court: "I have never seen him (her husband) go so white in his life - white with fear."
On another occasion John Anderson told the court he was "taught a lesson" after fleeing to Cambridge.
He was taken to Larkhall where Robert McPhee punched, kicked and hit him with a broom.
Other victim , Kieran Williams, tried to escape before being found by Robert McPhee and John Miller.
Graeme Lamb was caught at Glasgow Central train station and hauled back when he attempted to get away.
He was threatened, forced in a car and taken to the Curryside Piggery.
Brian McEwen was beaten so often by Robert McPhee that he was "yelping in pain and cowering like a dog".
He was also made to eat a jar of coffee granules.
William Milton told how he felt "owned" and was once punched so severely his ear-drum burst.
Benjamin McPhilemy was assaulted by Steven McPhee while Thomas Kenny was struck by Robert McPhee.
In her closing speech to the jury, the prosecutor said the victims' accounts had shown a "culture of control and violence" at the hands of the McPhee family.
Robert McPhee was found guilty of offences against the eight men.
He was convicted of assaulting all of them as well as abducting and holding Graeme Lamb and Kieran Williams in "servitude".
James McPhee was guilty of attacks on John Anderson, James Keith, Christina Anderson as well as assaulting and abducting William Milton.
John Miller was convicted of abducting and holding Kieran Williams in "servitude".
All were remanded in custody by Lady Stacey pending sentencing next month.