Humza Yousaf 'listening' to train windscreen concerns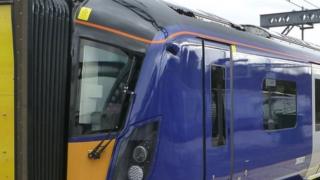 Scotland's transport minister says the government is listening to union concerns about the new fleet of electric trains.
Humza Yousaf said it was "imperative for the train manufacturer, Hitachi, and ScotRail to find a solution."
Aslef said drivers had reported a windscreen design flaw causing them to see more than one signal at night.
The minister said he was unable to say "absolutely" whether the trains would go into service in March, as planned.
Speaking on the Good Morning Scotland programme, Mr Yousaf said: "Clearly to find a solution, that is going to take time, so I wouldn't absolutely say that it is going to be March.
"We are going to push (Hitachi) to remain to the latest timetable, but it will depend on the solution and the time that is required for that."
ScotRail has said that the trains are undergoing a "rigorous testing regime" before entering service.
Mr Yousaf said: "The point of testing was for drivers to be able to input their feedback into the new trains."
Kevin Lindsey from Aslef has previously called upon the transport minister to intervene.
He said: "I've been involved in the railway for 30 years and seen many a new train come to Scotland, but I've never known a train where a driver can't see the signals through the windscreen."
Night time test
ScotRail has ordered 46 three-car and 24 four-car sets, which are due to be rolled out on the newly-electrified Edinburgh Waverley to Glasgow Queen Street route.
During a recent night time test run, drivers reported seeing reflections of other signals in the curved windscreen.
Responding to their concerns, Mr Yousaf said: "Passenger safety must be the number-one priority.
"We should listen to what the drivers have to say and find a solution to that."
The minister has been discussing the problem with ScotRail who, in turn, have been seeking other solutions from Hitachi.
Mr Yousaf said taxpayers would not have to foot the bill for modifications and that any penalties for the late introduction of the trains would be settled between ScotRail and Hitachi.