Scotland's papers: Councils 'dumped' green waste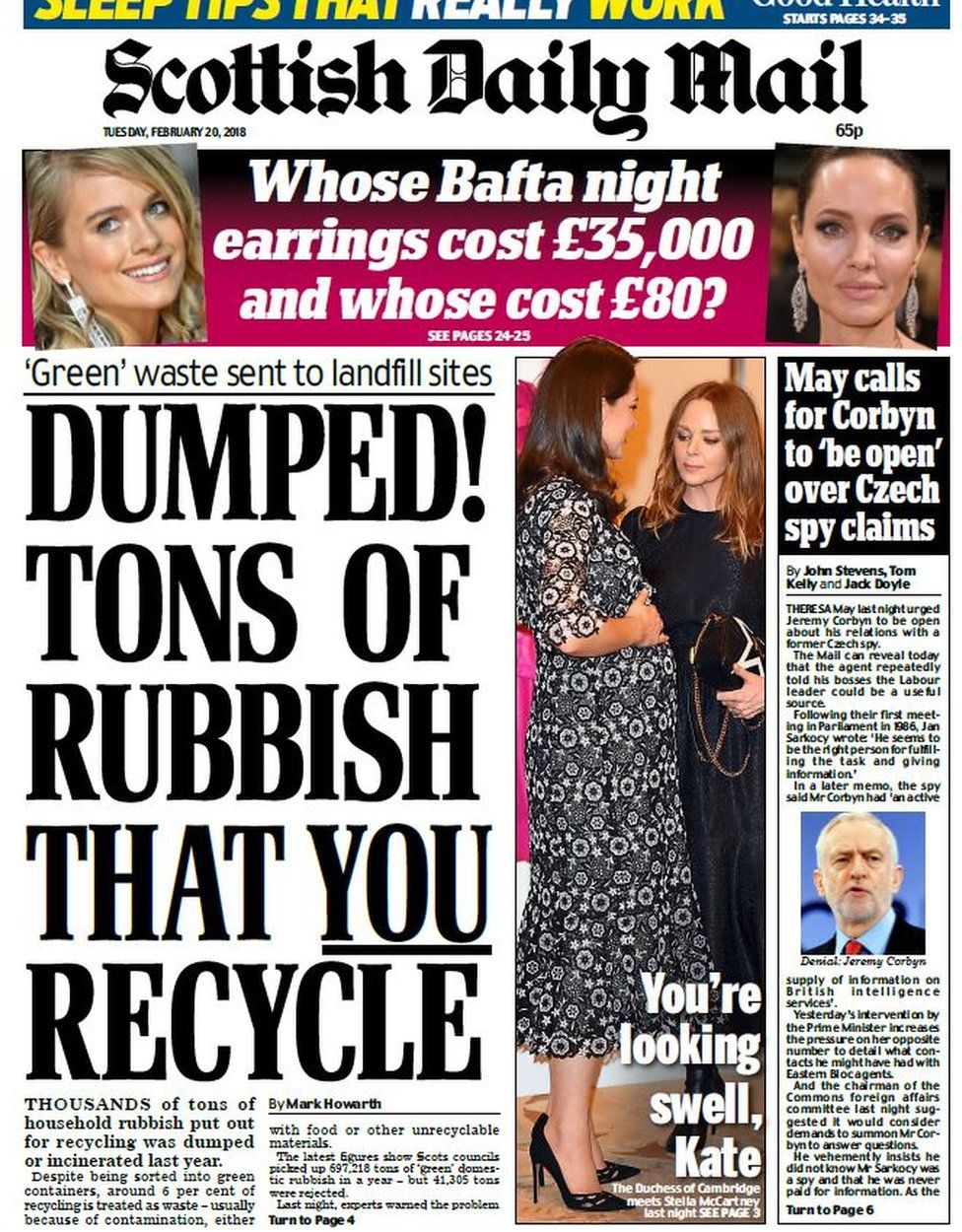 Thousands of tonnes of household rubbish that was put out for recycling was dumped or incinerated last year, says the Scottish Daily Mail, after official figures showed 41,305 tonnes of green waste was rejected, mainly because of contamination issues.
The i newspaper also leads with a Brexit story and reports that Damian Green - Theresa May's former deputy - has ridiculed as "conspiracy theories" claims that civil servants are plotting to thwart the Leave vote and has called for ministers to be more willing to publish forecasts detailing the economic effect of leaving the European Union.
UK Labour leader Jeremy Corbyn is under mounting pressure to authorise the release of Cold War files kept on him by the Stasi after Theresa May said he must be "open and transparent" about his links to former Communist spies, according to the Daily Telegraph.
The Daily Express also leads with the story and says the prime minister's comments come amid calls for Mr Corbyn to appear before the Foreign Affairs select committee to answer questions about the accusations.
Neil Lennon says he hopes paedophile football coach, Barry Bennell, "never sees the light of day again" after he was jailed for the abuse of two of his former team-mates, reports The Scottish Sun.
Dundee is facing an "imminent mental health storm" according to a charity quoted in The Courier. It comes after three "particularly violent incidents" linked to mental health issues in the city in recent months, says the paper.
Business leaders have called for transport chiefs to deliver a "realistic" completion date for the long-awaited Aberdeen bypass project, according to the Press and Journal.
Related Internet Links
The BBC is not responsible for the content of external sites.