Lecturers walk out in row over pensions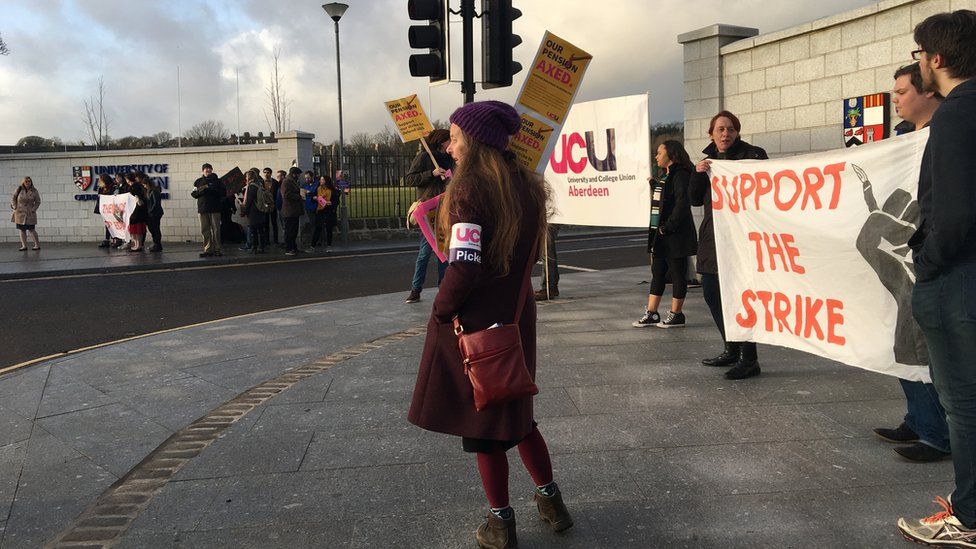 Lecturers at universities across Scotland are taking part in a strike in a row over pensions.
The University and College Union (UCU) said members at nine Scottish universities were walking-out along with staff from the Open University.
Employers, Universities UK called the action "disappointing" and said the pension scheme had a deficit of £6bn.
The UCU warned that 145,000 university students attending courses at universities in Aberdeen, Dundee, Edinburgh, Glasgow, Heriot-Watt, St Andrews, Stirling, Strathclyde and the Scottish Association for Marine Science at the University of the Highlands and Islands would be affected by the walk-out.
It is planned to last from Thursday through to Wednesday 28 February, although both the University of Edinburgh and Stirling are not due to join the strike until Monday of next week because of timetabling issues.
The dispute centres on proposals to end the defined benefit element of the Universities Superannuation Scheme (USS) pension scheme for staff.
The UCU said the change would leave a typical lecturer almost £10,000 a year worse off in retirement.
UCU Scotland official Mary Senior said: "Nobody wants to take strike action, but staff across Scotland feel they have no choice. These hard-line proposals would slash staff pensions and are simply uncalled for.
"It is staggering that the universities have refused to engage with the union and a real insult to staff and to students.
"We hope students will continue to put pressure on the principals to get their reps back round the negotiating table."
Universities UK, an umbrella body which represents employers, said the proposed pension changes were essential to keep the pension scheme viable.
A spokesman added: "The changes proposed will make USS secure, and sustainable, safeguarding the future of universities.
"University staff will still have a valuable pension scheme, with employer contributions of 18% of salary, double the private sector average.
"This makes strike action very disappointing. UUK remains at the negotiating table, but so far UCU has refused to engage on how best to address the funding challenges facing USS."
The UCU said its members had overwhelmingly backed industrial action in a recent ballot, with 87% voting in favour against a turnout of 63% in Scotland.
A spokesperson for Universities Scotland said its priority was to minimise the impact of the walk-out on students. A spokesman added: "Universities Scotland is not a party in this dispute, but recognises the need for universities to address the funding challenges facing USS.
"Universities' immediate priority will be to try to minimise disruption to students' education and to vital student services during that time."
Rallies are also due to be held in Glasgow and Dundee on Thursday, with another event planned for Bristo Square in Edinburgh on 26 February.