'I bumped into my rapist at court'
By Lucy Adams
BBC Scotland correspondent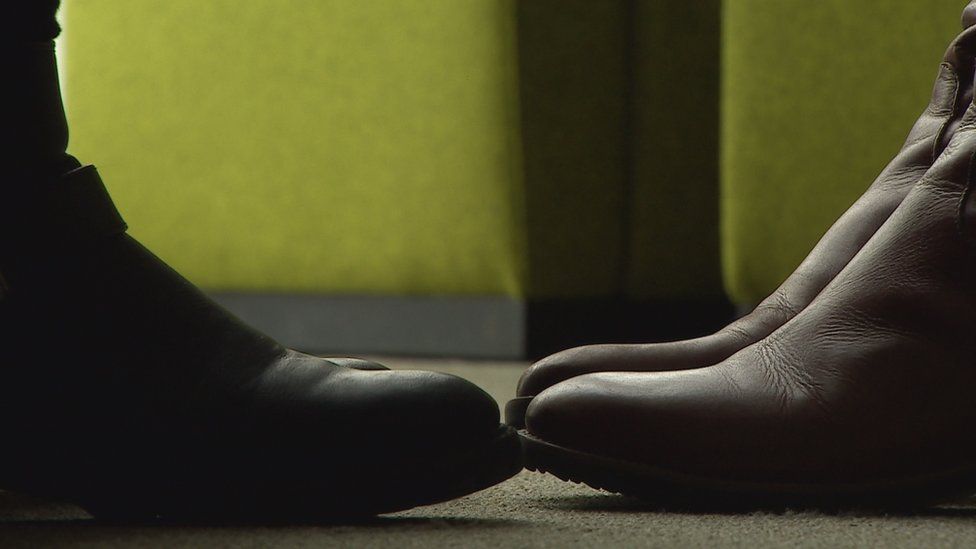 When Lorna reported being raped in 2014 she hoped it would be a quick process but it took two and a half years for her case to go to court.
"That's actually the roughest part - the waiting," she says.
Lorna, her name has been changed to protect her identity, says she tried to get on with her life while she waited for the court case but she found it difficult to be the person she once was.
"That's actually quite difficult because you're trying to find yourself again." she says.
"And then you're waiting on that letter coming through your door, or the phone call from another police officer or a knock at the door."
When the court case did come around, Lorna was told that special measures would be put in place to ensure she felt protected and safe.
They included her not having to see her alleged attacker.
There would even be a screen in place when she gave evidence, she was told.
But on the first day of the trial she bumped into the man who had raped her - twice.
Lorna says: "When I went to court I was outside getting some fresh air and I walked in the front door of the court, swung the door open and there was the person that had assaulted me standing in the corner just after the metal detectors where you go and get checked.
"So I sort of froze. I never thought I would freeze the way I did.
"I thought I was brave and if I was to see that person again I could be OK, I could be fine with that, but in reality when you see that person for the first time since that night, that's really hard - you don't know how you're going to react.
"So I about-turned and I walked straight back out of the door and I was shaking."
After all the delays, on the day she gave evidence the case was dropped by the Crown Office.
They said there was insufficient evidence.
Lorna says she never changed her statement and the evidence was the same from the beginning.
"It feels like a waste of time," she says.
"Why put someone through that? From the very beginning that's my truth, I've always told the truth.
"My statement from the very beginning was the same as what I said in court, all the questions that they asked me in court were the same that they asked me in the very beginning and they were still the same because that's what happened."
Lorna says the public - and the jury - need to realise that people are usually raped by someone they know.
"These days, people just hear on the news that this person 'came out of nowhere' and it was a stranger," she says.
"Most of these sorts of assaults take place with someone that you know and somewhere you feel safe and comfortable, like in your own home."
Lorna's case started before the advocacy service, which provides a dedicated support worker, was in full swing.
She says she was really grateful to get support from an advocacy worker later in the case but one person from the start would have helped.
"Someone from the very get-go that you could go speak to about anything," she says.
"That one person who knows all the ins and outs all the protocols.
"Because when that first happens to you, you're unsure as to what's happening next."
Despite her experience Lorna says she still believes that people should come forward and report to the police.
In response to Lorna's case, a spokesman for the Crown Office said: "The Crown takes a firm and rigorous approach to sexual offending.
"It has specialist units which deal with sexual offences and its prosecutors are experienced in the investigation, analysis and presentation of these cases.
"Sexual offences can often be complex and challenging crimes which require painstaking investigations to be carried out over a significant period of time.
"This case commenced prior to the introduction of the Victim and Witnesses (Scotland) Act 2014 which provided that specific categories of witnesses including victims of sexual offences would be entitled to special measures in court including a support person, a screen or to give evidence by CCTV link.
"While we could not satisfy the legal test in place at that time to allow the victim to use a screen we were able to secure a special measure which allowed her to be accompanied by a supporter.
"In this case Crown Counsel decided that there was insufficient evidence to continue with the prosecution.
"A criminal case requires corroboration of the facts that a crime was committed, and that the accused is responsible. If there is not enough evidence to provide this proof, then we cannot continue with a prosecution.
"The Crown will oppose the use of any evidence relating to the character of or the sexual history of a complainer in sexual offence cases whenever possible.
"Such information is inadmissible at trial other than in limited circumstances and there is a strict legal test for whether this information can be used in court."