New Police Scotland chief constable to be in place by end of year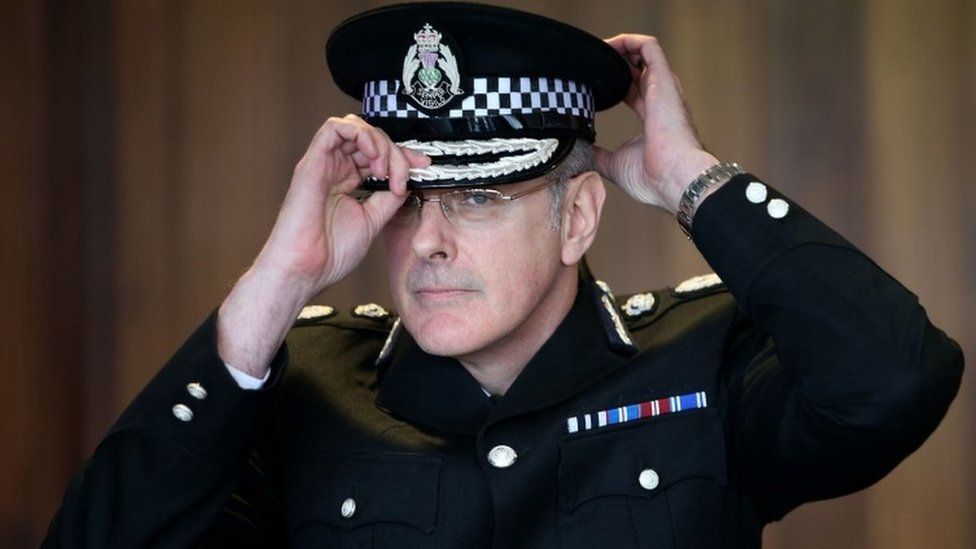 The new chief constable of Police Scotland will not take up their post until the end of the year.
Scottish Police Authority (SPA) chairwoman Susan Deacon said the post vacated by Phil Gormley's resignation would be advertised in the summer.
The successful candidate will then be recommended to Justice Secretary Michael Matheson in the autumn.
Prof Deacon said Deputy Chief Constable designate Iain Livingstone will remain in charge of the force in the meantime.
The SPA chairwoman provided an update during a public board meeting in Stirling.
Prof Deacon thanked Mr Gormley for the "significant contribution" he made during his tenure, notably the development of the Policing 2026 Strategy.
Looking ahead to the recruitment process for the £214,000 post, she said: "This is one of the most challenging and rewarding policing roles in the UK and so it will be important to have an open, competitive and transparent process, and a rigorous and challenging assessment and interview process to find the best candidate to recommend for the position.
"I have asked the interim chief officer to develop proposals for consideration by the board, including how to involve appropriate external input to that SPA-led process, and ensure future resilience and development for the senior leadership of Police Scotland as a team."
Outlining the timeline, Prof Deacon added: "Given the understandable level of public and parliamentary interest in the leadership of policing in Scotland, I believe it is important that there is increased transparency around the planned appointment approach and so detailed proposals will be brought to the March SPA board in public for approval.
"That will see the appointment process launched before the summer, with the aim of making a recommendation to Scottish ministers in the autumn, and having a new chief constable in place by the year end."
Prof Deacon confirmed Mr Livingstone, who took over when Mr Gormley went on special leave last September, will continue to lead the UK's second biggest force until the recruitment process is complete.
Meanwhile, at the end of his update to SPA members Mr Livingstone announced Deputy Chief Constable Rose Fitzpatrick will retire on 30 June.
Ms Fitzpatrick, who has responsibility for local policing, was the second senior officer to be appointed to Police Scotland in December 2012 after former Chief Constable Sir Stephen House.
She began her career in the City of London Police in 1987 and transferred to the Metropolitan Police Service in 2002.
Ms Fitzpatrick rose to the rank of Deputy Assistant Commissioner before joining Police Scotland.
Mr Livingstone praised her "outstanding public service" and said she had made an "enormous contribution" to the force.
Related Internet Links
The BBC is not responsible for the content of external sites.