Drivers stranded amid red alert for snow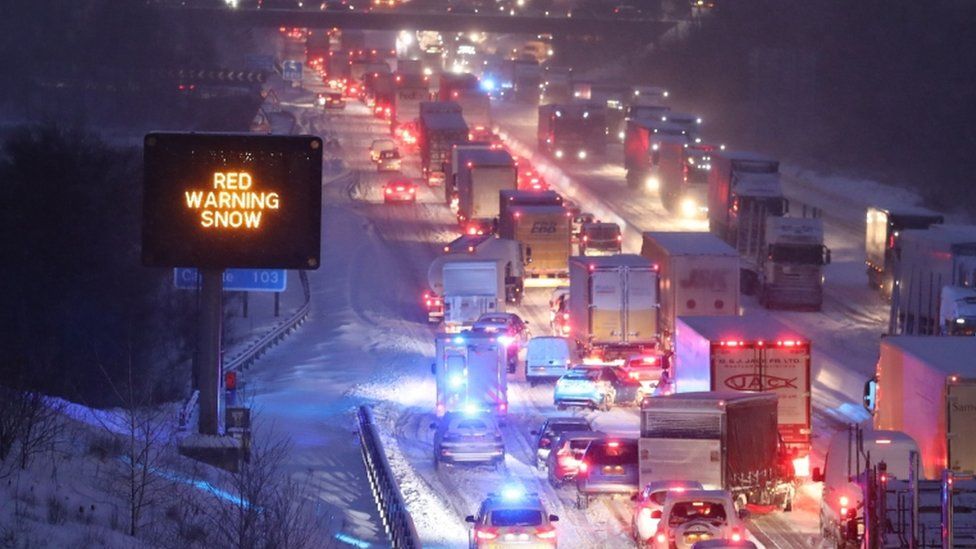 A red alert for snow is in force for many of Scotland's most highly-populated areas as blizzard conditions left some motorists stranded for hours on roads in the central belt.
Trains, flights and many bus services in the affected areas have stopped.
Driving conditions are treacherous, and people have been told not to travel unless it is absolutely necessary.
The red warning of major disruption and potential risk to life will be in place until 10:00 on Thursday.
It covers Strathclyde, Lothian, Tayside, Fife and Central, as well as parts of south east Scotland and the Borders.
Transport Minister Humza Yousaf told BBC Scotland that the country was experiencing "unprecedented weather" with many people saying it was the worst snow they had ever seen.
Some gritters on the M80 and A720 were given a police escort to help them get through traffic to treat problem areas, with a series of minor accidents causing long tailbacks that left cars at a standstill for several hours.
One of those stuck on the M80 was Michael Blair, who said he had stopped for fuel at Old Inns, near Cumbernauld, at about 14:30 and had moved less than a mile in the four hours since.
Mr Blair, who was trying to get to Perthshire, said: "We have no idea how long we are going to be here."
The emergency services stopped any other vehicles going onto the road as they worked to clear the tailbacks.
Employers had been encouraged to send staff home early ahead of the red warning coming into effect at 15:00 on Wednesday.
It is the first time a red alert for snow has ever been issued in Scotland, and only the second time anywhere in the UK.
A red warning means extreme weather is expected, with people urged to take immediate action to keep themselves and others safe from the impact of the weather.
Widespread damage, travel and power disruption and risk to life is likely, and people must avoid dangerous areas and follow the advice of the emergency services and local authorities.
The warning came after the so-called Beast from the East caused major problems across most of Scotland earlier on Wednesday, with more than 1,600 schools shut and transport badly affected.
About 11cm (4in) of snow had fallen in the centre of Glasgow by lunchtime on Tuesday, with First Bus saying its services in the city and surrounding areas would stop by 16:00, while Lothian Buses stopped its services at 19:00.
The British Red Cross has used specially equipped 4x4 vehicles to supply bedding for people at Glasgow Airport in case passengers are stranded overnight.
Other airports, including Edinburgh and Aberdeen, have also seen disruption.
No trains will run on the West Coast Main Line between Scotland and England until at least lunchtime on Thursday, and the Forth Road Bridge has been closed to all traffic, with vehicles being diverted to the Queensferry Crossing.
And Glasgow's subway system closed at 19:00 to allow staff to go home.
The Met Office said: "Heavy snow showers and drifting of lying snow in the strong easterly winds will become more widespread across the area later on Wednesday afternoon, through the evening and overnight into Thursday.
"Roads will become blocked by deep snow, with many stranded vehicles and passengers. Long delays and cancellations on bus, rail and air travel are expected."
It also said some rural communities could become cut off for several day, and warned of the potential for long interruptions to power supplies and other services.
Mr Yousaf said the authorities were doing their best to get gritters to the worst affected areas, with emergency services ensuring that people stuck on roads such as the M80 had enough provisions.
Speaking to the Reporting Scotland programme, he said people had heeded warnings not to travel "to an extent", with traffic much lighter than would normally be the case and many employers being "extremely flexible" in allowing staff to go home early or work from home.
But he added: "I have seen HGVs that are carrying home furniture, stationery and piping. I am not convinced that is necessary, and a lot of the incidents we have seen have been caused by a loss of traction by HGVs, so not everybody has been listening or heeding that advice."
Mr Yousaf stressed: "The advice still remains - please avoid all travel not only if you are in the red warning area, but also if you are in the amber warning area which we know doesn't finish until Thursday at 6pm."
All 11 SPFL football matches scheduled for Wednesday evening have been cancelled.
More than 450,000 pupils were off school on Wednesday, with the vast majority to remain closed on Thursday. Parents should check their local council's website and social media pages for updates.
NHS Greater Glasgow and Clyde has said it is cancelling all routine elective procedures and outpatient appointments on Thursday because of the weather conditions, although emergency and essential elective procedures will still go ahead.
Several universities are also closed, including Glasgow, Strathclyde and Stirling.
About 27,000 homes in Aberdeenshire were left without power for less than an hour on Wednesday morning, but Scottish and Southern Electricity Networks said this had not been due to the weather.
Virgin Trains said the route between Carlisle and Scotland is closed with no trains or replacement buses running, because of the weather.
Alternative rail routes between England and Scotland are also "severely disrupted".
What other red warnings have there been?
The current Met Office warning system came into force in 2011, after heavy snow in December of the previous year left motorists stranded overnight on the M8 between Glasgow and Edinburgh.
This is the ninth red weather warning of any type for anywhere in the UK since then, and only the second ever red snow warning in the UK - and the first issued for snow in Scotland.
The last red warning was on 29 January 2016 for storm force winds across Orkney and Shetland
On 26 December 2015 a red alert for heavy rain was issued across Lancashire and Yorkshire.
5 December 2015 for heavy rain across parts of Cumbria and the Scottish Borders (Storm Desmond)
12 February 2014 for severe gales across Wales and northern England
18 January 2013 for snow in south Wales
7 July 2012 for rain in south west Devon and east Cornwall
3 January 2012 for storm force winds in the Central Belt of Scotland
8 December 2011 for severe gales in central and southern Scotland
Police Scotland also repeated its advice for people not to travel.
Ch Supt Stewart Carles, head of the force's road policing unit, said: "The warning covers the commuter periods both this evening and tomorrow morning.
"So we would ask people to think very carefully about making alternative arrangements for these times and to consider whether they really need to make that journey, particularly on the road network which may become overwhelmed as people leave work early to beat the storm.
"We'd urge employers to be as flexible as possible in terms of their staff perhaps not being able being able to come to their normal places of work and to consider alternatives."
Where to find the latest weather and travel information
Below are a number of other traffic information sources.
What the weather warning colours mean
Yellow: Severe weather expected. Yellow means you should plan ahead thinking about possible travel delays, or the disruption of your day-to-day activities.
Amber: Be prepared for disruption. There is an increased likelihood of bad weather affecting you, which could potentially disrupt your plans and possibly cause travel delays, road and rail closures, interruption to power and the potential risk to life and property.
Red: Extreme weather is expected. Red means you should take action now to keep yourself and others safe from the impact of the weather. Widespread damage, travel and power disruption and risk to life is likely. You must avoid dangerous areas and follow the advice of the emergency services and local authorities.
Related Internet Links
The BBC is not responsible for the content of external sites.