My brush with the Beast from the East
By Paul McLaren
BBC Scotland News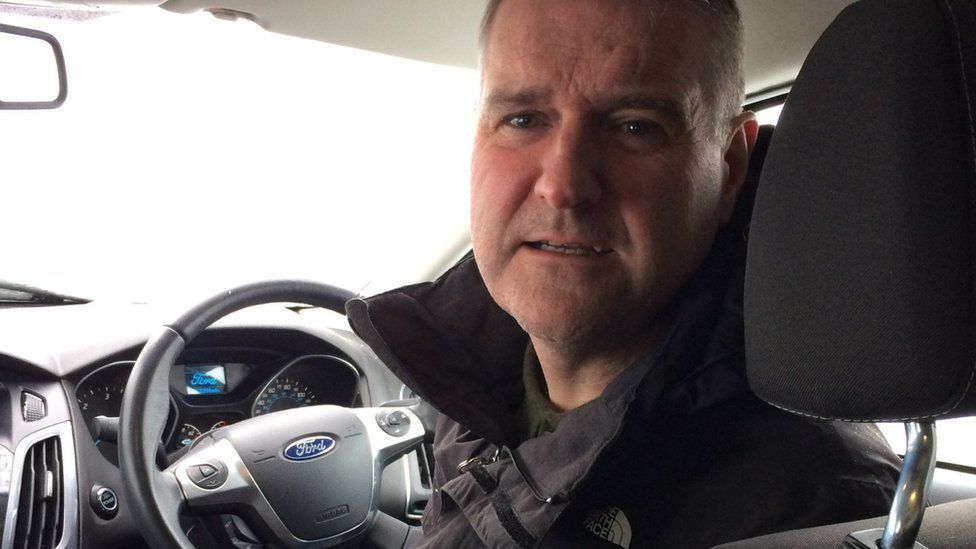 I spent seven hours stuck on the freezing, snow-battered M80. And I was one of the lucky ones.
I left the BBC Scotland offices in Glasgow at 13:20 on Wednesday hoping to make it home to Falkirk before the red alert for snow kicked in at 15:00.
If I had left any later, I could still have been behind the wheel to watch the sun come up.
The journey started with the snow already swirling like a sandstorm but things were moving slowly but surely until about a mile south of Castlecary. Then we stopped - and we didn't move another inch for four hours.
The eventual relief lasted for about two minutes and 100 yards before what had become the biggest car park in Scotland seized up again.
The weather was so painfully awful that people weren't even getting out of their cars to stretch their creaking legs. The sunlight was swallowed by a doomsday sky and the realisation that we were all in this for the very long haul kicked in.
Word was getting through that a number of stricken lorries had closed both carriageways and the rescue operation was a fraught one because the trucks were teetering on an increasingly icy gradient.
It was nearly 21:00 and the traffic watchers' talk was of another two, three or four-hour wait.
Then, slowly, we started edging forward.
Desperately trying to keep up a bit of pace so as not to get struck in the slushy quicksand, we skidded and slipped up the road towards the Haggs cut-off.
And that's where we got our first look at the stranded trucks which had shut off the main route from Glasgow to Stirling, Perth, Dundee and Aberdeen.
Dozens of them hauled onto the hard shoulder, it was like an elephants' graveyard for lorries.
I made it past them, onto the M876 and eventually home.
Eight hours after setting off on a 25-mile journey, I had made it.
All the more grateful as the horror stories of those still stuck behind me unfolded.
The Beast from the East had bared its teeth - and made Shane MacGowan look like Tom Cruise.