Scots told to be 'patient and sensible' after weather hits food supplies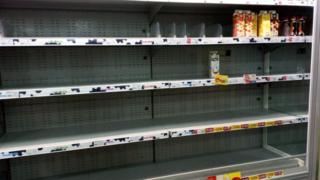 People in snow-hit areas of Scotland have been urged to be "patient and sensible" when buying food and fuel after three days of extreme weather.
Deputy First Minister John Swinney called for caution as people are finally able to venture outside as weather warnings decrease and shops and council services work to try to fully restore stock and services.
Mr Swinney said: "Shop deliveries in some local areas may be affected in the short-term, so I would also ask that people are patient and sensible when purchasing food or fuel, as the situation gradually returns to normal.
"While the warning alert has reduced to yellow, cold conditions and snow are expected to continue for the next few days so please exercise caution, carefully prepare and avoid unnecessary journeys."
Some councils are now warning services involving food may be disrupted into next week, with schools providing reduced menus for pupils in some areas.
On Friday, Stirling Council warned of a reduced school meals service.
Highland Council was also concerned.
A spokeswoman said: "Menus have been amended where necessary in a few schools.
"If the current weather continues then next week could present us with some challenges."
Bread and milk
Shortages of essentials in local shops and supermarkets been reported widely on social media.
Shoppers shared photographs from a range of stores, claiming bread and milk had almost sold out and shelves were empty.
The Scottish Retail Consortium, which represents many shop owners, said it was hopeful supplies would return to normal quickly.
Director David Lonsdale said: "Most retailers already have well-developed contingency plans in place to deal with disruptions, and the appalling weather conditions over recent days will certainly put these plans to the test, however so far the overwhelming majority of stores have remained open.
"Consumers are encouraged to continue to shop as normal rather than buying unnecessary quantities, particularly of food or drink."
Farm collections
The milk supply chain has been hit due to tankers being unable to get to dairy farms, and therefore the milk not making it to retailers for packaging and sale.
National Farmers' Union (NFU) Scotland President Andrew McCornick said: "Many dairy farmers are not getting their milk collected and are being forced to dispose of it in their slurry after a days' milking.
"We are hopeful that collections for these farms will return to normal at the weekend but with the weather being so unpredictable it is hard to say."
The fruit market in Glasgow was catching up after many suppliers had to cease deliveries for two days.
Alex Fairfull from Carruthers Fruit and Veg said: "The last couple of days have been challenging with transport.
"Yesterday we held all our vans in. This morning we sent vans to Ayrshire but were not delivering to the central belt.
"We are trading at about half the capacity we should be."
BBC News website looked at what else is in short supply or may take time to recover after the cold snap.
Food
Supermarkets are struggling to restock and fresh items seem to be hardest hit.
Allied Bakery told British Baker online magazine that it had increased production to meet greater demand.
A spokesman for the Co-op, said convenience stores had been hit particularly hard as shoppers walked to their nearest shop to avoid travel.
An Asda spokesman said staff were working hard to get deliveries through. after the travel problems of the past few days.
Gas
The National Grid issued its first "gas deficit warning" for eight years on Thursday but withdrew this on Friday morning as supplies increased.
National Grid said it did not anticipate having to issue a new warning on Friday but would do if supplies dropped off again.
Electricity
SP Energy Networks says the power network is doing well in challenging circumstances.
Guy Jefferson, SP Energy Networks director, said: "Our network in Central Scotland is holding up well despite the heavy snowfall we've seen over past 24 hours.
"Currently we're operating at 'business as usual' levels, but with more poor weather expected we will continue to monitor any change in conditions."
Heating Fuel
Rural households which rely on tanks of heating oil may not have received planned deliveries or may have run out due to increased use of heating over the past few days.
The combination of customers more likely to be in hard-to-reach locations plus the need for oil tankers to be extra careful means getting fuel to customers has been a challenge.
Graeme Edment from Oilfast said: "Our drivers need to be safe but we are doing whatever we can to make deliveries.
"The big problem is snow drifts at the moment. If the driver can't get through safely, we can't do the delivery.
"We have been trying to get emergency oil to those who have none using 4x4s."