Protest staged over Scottish Youth Theatre closure threat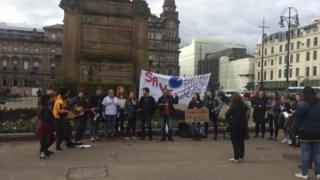 Efforts are continuing to try to save the Scottish Youth Theatre from closure.
A number of former students have staged a peaceful demonstration in George Square in Glasgow.
Meanwhile a parent has presented a petition, signed by more than 37,000 people to the Scottish government.
The theatre has announced its imminent closure, after failing to secure regular funding from arts agency Creative Scotland.
At the weekend, Creative Scotland chief executive Janet Archer said it may be able to help the SYT avoid having to shut under an alternative funding plan.
The Glasgow-based organisation, which has been running for more than 40 years, has helped shape the careers of international stars like Karen Gillan, Kate Dickie and Gerard Butler.
The funding decision by Creative Scotland means the SYT, which costs £600,000 a year to run, has a funding gap for 2018-21 amounting to a third of its required income.
The youth theatre has been working on a plan to secure direct government funding by winning "national company" status.
A group of former students from the SYT gathered in George Square on Tuesday afternoon for what they described as a peaceful protest.
A question has been also been tabled at the Scottish Parliament. Labour MSP Claire Baker has asked the Scottish government what discussions it has had with the theatre regarding its future.
On Monday, an online petition organised by the mother of a six-year-old girl was handed in at the first of two meetings between the SYT and the Scottish government to consider future funding.