'Kevin Bridges gave me big hug after driving test'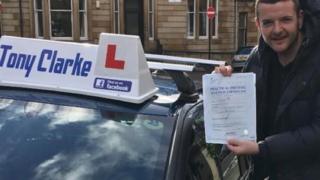 Comedian Kevin Bridges gave his driving instructor a "big hug" when he finally passed his test, 12 years after his first lesson.
The 31-year-old returned to the Clydebank instructor who had taken him on his first lessons for a three-week intensive crash course.
Tony Clarke told BBC Scotland that Kevin was a "completely different guy" when he had first met him.
"He was definitely not as motivated but just as funny though," he said.
"Twelve years has put some maturity and a bit of determination into him, that's for sure."
Mr Clarke told BBC Scotland's Stephen Jardine programme the comedian had between five and eight lessons before his burgeoning career took him down to London for a while and he could no longer continue.
As his career took off, Kevin was too busy to return to lessons but phoned up Mr Clarke recently to arrange the crash course.
Learning quickly
The instructor said: "He was pretty determined to get through and I set out a number of hours for him.
"It's like everything else, you have got to assess someone's ability first but he was learning really quickly and I thought 'let's go for it'."
Mr Clarke said the intensive course was not recommended for everyone.
He said: "I've been teaching 20 years and I would say only 20% of people will suit this kind of thing.
"Other people won't measure up to that level of intensity so they need to have a wee break to let the brain develop skills. It depends on the person."
However, after his three-week tuition Kevin passed at the Anniesland test centre in Glasgow.
Mr Clarke said: "He gave me a big hug and he said 'brilliant'.
"Soon enough there were three people around him trying to get pictures. There were strangers running across to see him."
The driving instructor said the examiner had been aware of who the comedian was but was not one of those asking for a selfie.
"He was very professional," Mr Clarke said.