Legal bid to increase age of criminal responsibility from eight to 12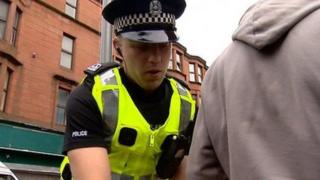 A bill has been published to raise the minimum age of criminal responsibility in Scotland from eight - the lowest in Europe - to 12.
It will mean no child under 12 will receive a criminal record.
Currently they can go before a children's hearing from the age of eight and have these judgements added to their criminal record.
MSPs have previously said it was a "national embarrassment" eight-year-olds could be treated as criminals.
The change will raise that to 12, the age at which children can be prosecuted in a court.
The age of criminal responsibility - when a child is considered capable of committing a crime and old enough to stand trial and be convicted of an offence - is currently set at 10 in England, Wales and Northern Ireland.
The age of criminal prosecution in Scotland was raised to 12 in 2011, meaning younger children would be sent to children's hearings instead of court.
The Scottish government set up an advisory group on the subject in 2015, which came back with a report recommending the age of responsibility also be raised to 12.
A consultation was subsequently held between March and June 2016, with the Scottish government saying it would "inform a decision by ministers".
In a statement to Holyrood, then-Children's Minister Mark McDonald told MSPs: "Having the lowest minimum age of criminal responsibility in Europe does not match with our progressive approach to youth justice and ambitions to give children the best start in life."
The Scottish government said the policy was "about protecting children, reducing stigma and ensuring better future life chances, rather than reflecting a particular understanding of when an individual child in fact has the capacity to understand their actions".
They hope it will have a broader impact and will bring about a cultural shift in how the behaviour of younger children is viewed in Scotland.
They said the police would get new powers to ensure they could still investigate the most serious incidents of harmful behaviour committed by children under 12.
Early Years Minister Maree Todd said: "All children deserve the best possible start in life and this legislation marks a key milestone in Scotland's journey to ensure children are respected and valued.
"We know the actions of children who harm others are often a symptom of trauma in their own lives and that accruing a criminal record actually drives more offending."
She said the legislation would help turn around the lives of troubled, primary school age children - who are often vulnerable themselves - by addressing their deeds in the context of supporting their needs.