The papers: Kremlin link to Scot's death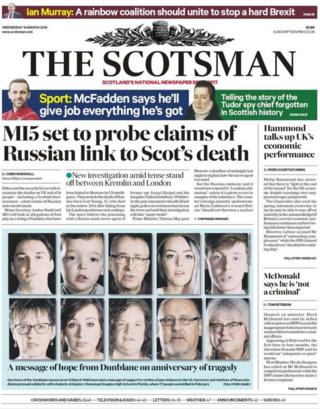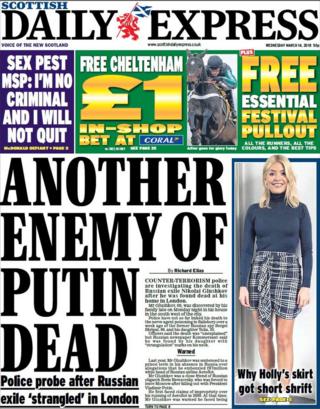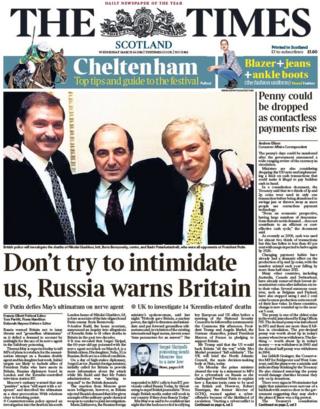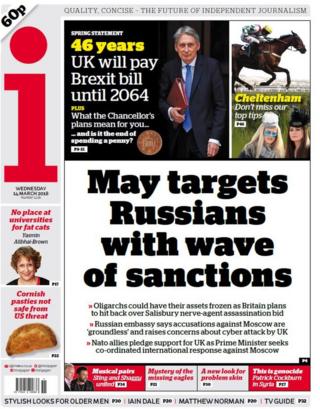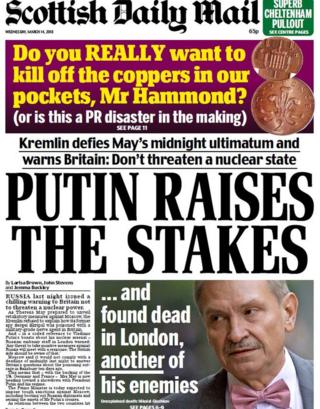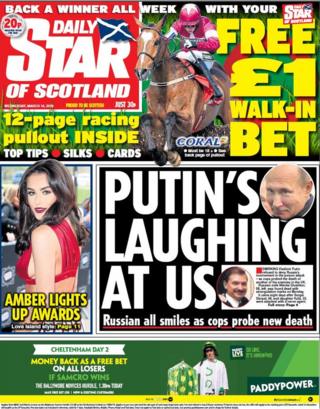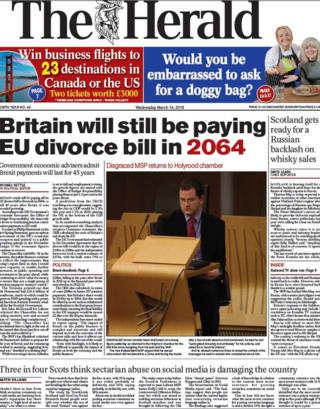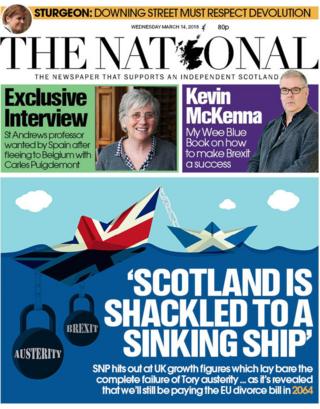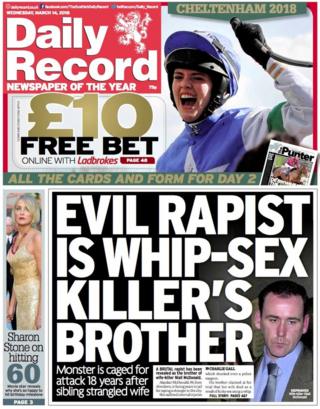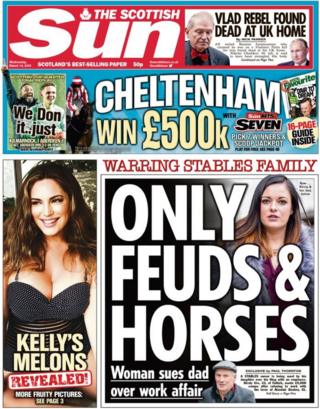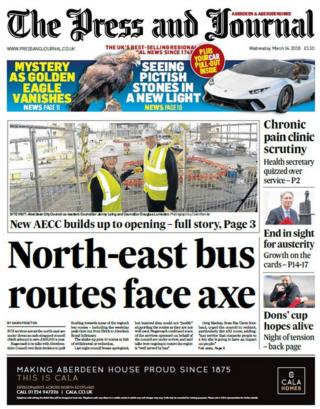 The papers continue to be dominated by coverage of the political standoff between Russia and the UK over the poisoning of former Russian double agent Sergei Skripal and his daughter Yulia in Salisbury on 4 March.
The Scotsman reveals that police and the security forces will re-examine the deaths on UK soil of 14 people, including Dundee-born businessman Scot Young, amid claims of Russian state involvement. Mr Scot died in 2014 after falling on to railings from his London flat.
Meanwhile, The Daily Telegraph writes that counter-terrorism police have also opened an investigation into the "unexplained" death on British soil on Monday of Russian Nikolai Glushkov, who the paper describes as "an arch enemy of Vladimir Putin".
The Scottish Daily Express also leads with Mr Glushkov's death and says he was a Russian businessman and close associate of late Putin critic Boris Berezovsky.
Russia warned Britain not to issue threats and "groundless ultimatums" as it defied a demand to account by midnight for the use of its nerve agent in the Salisbury poisoning, writes The Times.
Theresa May is preparing to announce tough new sanctions against the Kremlin following the Salisbury chemical attack, including possible expulsions of diplomats in London, freezing of Russian assets in Britain and tightening visa rules on travellers to this country, according to the i newspaper.
The Scottish Daily Mail says Russia has issued a "chilling warning" to Britain not to threaten a nuclear power as Kremlin officials ignored Theresa May's midnight deadline to explain how the nerve agent that poisoned the former spy found its way into Britain.
The Scottish Daily Star claims that Vladimir Putin is "laughing at Britain" as the paper leads with what it says is a picture of the Russian president "smirking" when asked about Mr Skripal's poisoning.
In other news, Britain might still be paying off its £37bn divorce bill to Brussels 45 years after Brexit in 2064, according to The Herald, which quotes the Office for Budget Responsibility on the issue.
Philip Hammond has claimed there is "light at the end of the tunnel" for the first time since the financial crisis - but the SNP's Ian Blackford hit back saying the UK economy is "a sinking ship that Scotland is shackled to", writes The National.
A man convicted of raping a stranger in an Aberdeen park this week has been revealed as the brother of Niall McDonald, who was convicted of killing his wife 18 years ago, says the Daily Record.
Under the headline Only Feuds And Horses, The Scottish Sun leads with a tale about a horse centre owner who is being sued by his daughter for £9,000 over a "fling" with one of his employees.
Bus services across the north-east of Scotland are under threat as cash-strapped council chiefs attempt to save £200,000 a year, reports The Press and Journal.