Police Scotland at five: Tragedy, triumph and turmoil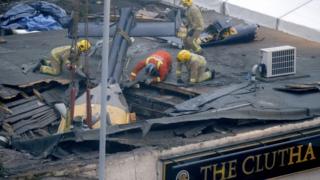 Britain's second biggest police service was launched on 1 April, 2013. Eight forces became one in the biggest overhaul of law enforcement north of the border since 1967. As Police Scotland turns five, BBC Scotland looks back at its challenges, from unspeakable tragedies to misconduct allegations.
---
Shock waves as police helicopter crashes killing 10
(Year one 2013-14)
The Scottish government said one country-wide police service would lead to savings of £1.7bn over 15 years.
Under the old model Scotland had eight chief constables, nine deputy chief constables and 13 assistant chief constables costing £4.8m a year.
The new streamlined force would have one chief constable - Sir Stephen House - four deputy chief constables and six assistant chief constables at a cost of less than £2m a year.
The Scottish Crime and Drug Enforcement Agency was also absorbed into the force in a bid to save money and its challenging brief became the responsibility of the Specialist Crime Division.
Another new feature was the launch of the non-emergency 101 number.
In the early days inevitable problems ranged from IT issues to power struggles between Sir Stephen and the Scottish Police Authority (SPA).
The former Strathclyde Police chief continued to make domestic abuse a key priority and deployed a strategy he described as "intrusive intervention".
The force also had to deal with a 27% increase in rape allegations, a spike attributed to the Savile effect and victims being more confident about coming forward.
Police Scotland's first high-profile murder investigation was a drugs-related shooting in an Edinburgh suburb.
On 26 May Mohammed Abdi was killed at point-blank range with a sub-machine gun following a car chase in Duddingston.
Four men were later prosecuted and jailed for a minimum of 25 years.
But the defining event of the force's first year occurred at 22:25 on Friday 29 November.
As the police helicopter returned to Glasgow from a routine operation it crashed into the roof of The Clutha bar on the banks of the Clyde.
The pilot, two police officers on board and seven men who were drinking in the pub were killed.
The tragedy hit the force hard and Sir Stephen later recalled the moment he took a call from the duty inspector in Helen Street.
He said: "The fact that so many people died in such a completely unforeseen way was very shocking.
"Most of them were enjoying a good night out listening to a band then, all of a sudden, they were injured or they were dead.
"Even if it hadn't been three of our people, it would have been emotional for us."
A report published in 2015 by the Air Accidents Investigation Branch (AAIB) said the pilot did not follow emergency protocol and flew on despite low fuel warnings.
It also concluded fuel transfer pumps were turned off and a controlled landing was not achieved for "unknown reasons".
The Crown Office concluded there was no evidence to justify criminal proceedings but confirmed a Fatal Accident Inquiry will be held, with the first hearing likely to take place in the autumn.
---
From judicial triumphs to bin lorry tragedy
(Year two 2014-15)
Two of Scotland's most notorious cold case killers were finally brought to justice in 2014.
In June former soldier John Docherty, 49, was convicted of the 1986 murder of Greenock teenager Elaine Doyle.
And in November serial killer Angus Sinclair was found guilty of the 1977 World's End murders.
Sinclair, 69, also became the first person in Scotland to be retried for the same crime after an acquittal, following a change in the double jeopardy law.
The force also faced its biggest security challenge as Glasgow hosted the Commonwealth Games.
A 24-hour control room was set up in Govan for the multi-sports event, which featured stars such as Usain Bolt and Sally Pearson.
Fortunately it passed without incident and was widely regarded as a major triumph for the city.
The following month Police Scotland successfully co-ordinated another massive operation as Gleneagles staged golf's Ryder Cup.
Armed policing came under fire after politicians in the Borders and Highlands raised concerns about officers carrying weapons while on routine patrol.
The move followed the publication of photos showing police wearing gun belts in shopping centres.
By October, in a move described by opposition politicians as a u-turn, the force confirmed specialist armed police officers would only be deployed to firearms incidents or where there is a threat to life.
On the plus side, it emerged the level of recorded crime in Scotland had reached its lowest level in 40 years.
A few days later a candlelit vigil marked the first anniversary of The Clutha helicopter crash.
But on 22 December officers had to deal with another devastating tragedy in Glasgow city centre.
At about 14:30 a bin lorry ploughed into pedestrians before crashing into the Millennium Hotel in George Square.
Six people, including three members of the same family, were killed and 17 were injured.
A Fatal Accident Inquiry heard driver Harry Clarke had a history of health issues but had not disclosed his medical background to his employers or the DVLA.
Sheriff John Beckett QC, who chaired the FAI, ruled the crash might have been avoided if Clarke had told the truth about his medical history.
It also emerged he had previously blacked out while working as a bus driver but failed to disclose it when he became a bin lorry driver with Glasgow City Council.
Families of the victims later launched private prosecutions against Clarke but the move was rejected by the Court of Session.
In February 2015 BBC Scotland revealed the force had reneged on a commitment to abolish stop searches on young children.
This was despite Assistant Chief Constable Wayne Mawson telling a Holyrood committee in June that the "indefensible" practice of consensual searches of under 12s would be scrapped.
---
Call centre catastrophe
(Year three 2015-16)
The first month of year three included a chilling murder in Glasgow and Britain's biggest ever drugs seizure off the coast of Aberdeen.
The body of Irish student Karen Buckley, 24, was found in a barrel on a farm four days after she went missing.
Her killer Alexander Pacteau, 21, was later jailed for a minimum of 23 years.
In the north police assisted the National Crime Agency-led investigation which led to the recovery of £500m of cocaine.
But the euphoria of Operation Screenplay was short lived and the summer of 2015 remains the most turbulent period in the force's history.
On 3 May officers responded to reports of a man behaving erratically and carrying a knife in Kirkcaldy, Fife.
Sheku Bayou, who was unarmed, was arrested but died after being restrained by officers.
The Police Investigations and Review Commissioner (Pirc) submitted a report into the incident to the Crown Office in August 2016 and a fatal accident inquiry is due to take place.
But relatives of Mr Bayoh, 31, last month criticised the Crown Office as it has yet to decide whether officers should face criminal charges.
The murder of gangland enforcer Kevin "Gerbil" Carroll, was one of the most high profile investigations the new force inherited from Strathclyde Police.
Carroll, 29, was shot dead in front of lunchtime shoppers outside Asda in Robroyston, Glasgow in January 2010.
The prime suspect, William Paterson, fled to Spain but was eventually arrested and jailed for 22 years.
His conviction, aided by the fact the murder weapon was dumped behind Coatbridge Library, was a major coup as such crimes are notoriously difficult to solve.
But the defining event of the last five years was the force's response to a road traffic accident on the M9, near Stirling.
John Yuill and Lamara Bell were last seen leaving Loch Earn in the early hours of Sunday 5 July.
Later that day police were informed about a car which had left the motorway but the call handler failed to dispatch a crew to investigate.
It was only when a second call was made on the Wednesday that the couple were discovered.
Mr Yuill, 28, was dead and Ms Bell, 25, who suffered broken bones and kidney damage caused by dehydration, died in hospital four days later.
Amid the fall-out Sir Stephen confirmed information from the initial call had not been entered into police systems.
The chief constable also apologised and admitted the force had "failed both families".
An HMIC report later identified weaknesses in the roll-out of the national call handling system.
The Pirc is reviewing the handling of the incident and has submitted a report to the Crown Office which has yet to publish its decision.
After weeks of negative headlines Sir Stephen announced he would be standing down - nine months before his contract was due to expire.
The best police work often takes place in the shadows and in August three men were jailed for planning to murder two former leaders of the Ulster Defence Association (UDA) in Scotland.
A complex and lengthy covert surveillance operation helped convict Antoin Duffy, 39, his cousin Martin Hughes, 36, and Paul Sands, 32, of plotting to kill Johnny "Mad Dog" Adair and Sam McCrory.
The following month Justice Secretary Michael Matheson confirmed Police Scotland would stop carrying out non-statutory stop-and-searches of adults and children following a review of the controversial practice by John Scott QC.
The force's problems went from bad to worse in November when a watchdog ruled Police Scotland's Counter Corruption Unit broke rules to obtain details of a journalist's sources.
In December former National Crime Agency deputy director Phil Gormley was named as Sir Stephen's replacement.
After a torrid few months the move offered a fresh start for the force.
Mr Gormley later told MSPs that his approach to the job will be about "collaboration and trust".
An astonishing year ended with one of the force's most harrowing investigations.
About 08:21 on 19 March a CCTV camera in Clydebank, West Dunbartonshire captured Paige Docherty, 15, walking into John Leathem's deli.
The teenager's body was found in a wooded area two days later.
She had more than 140 injuries and been stabbed 61 times.
Leathem, 32, later admitted killing Paige and was ordered to spend a minimum of 23 years in jail.
---
Unlawful breach of spying rules
(Year four 2016-17)
The 2016 Scottish Cup Final proved to be the force's most challenging sporting event and led to 180 arrests.
The Hampden pitch invasion that followed Hibernian's Scottish Cup victory over Rangers also set in motion a massive CCTV trawl which saw dozens of stills released and shared on social media.
In August a judicial tribunal which investigated whether Police Scotland breached spying guidelines ruled the force acted "unlawfully".
Officers had been attempting to find out how information about the investigation into the murder of Emma Caldwell in 2005 had appeared in the media.
In October Ronnie Coulter was convicted of the 1998 murder of Surjit Singh Chhokar, 32, in Overtown, North Lanarkshire
His conviction was only the second time in Scottish legal history that an accused had been tried twice for the same crime.
Meanwhile, Audit Scotland urged the force to urgently reassess its IT needs after the collapse of a multi-million pound computer project.
The year ended with an increase in the number of armed police officers patrolling Scotland's streets in the wake of the Westminster terror attack.
Deputy Chief Constable Johnny Gwynne also confirmed officers with tasers would be stationed at the Scottish Parliament.
While other parts of the UK have been targeted by terrorists the last notable incident in Scotland was the Glasgow Airport attack in 2007.
---
Embattled chief constable resigns his position
(Year five 2017-18)
The previous 12 months have been defined by a leadership crisis at both the SPA and Police Scotland.
In May MSPs on the justice sub-committee on policing said it did not have confidence in the leadership of SPA chairman Andrew Flanagan.
He came under fire at a series of Holyrood inquiries about governance and transparency.
The following month Mr Flanagan announced his resignation but said he would stay on until a replacement was appointed.
In July the spotlight switched to Police Scotland after Mr Gormley confirmed he was under investigation for misconduct.
The Chief Constable continued his duties but on 8 September it emerged he had taken "special leave" after a second complaint was made.
Meanwhile, former Labour health minister Susan Deacon was appointed as the new chair for of the SPA.
In the weeks that followed a fifth complaint was made about Mr Gormley's conduct and his wife, Claire, gave a newspaper interview in which she defended her husband and condemned the Pirc probe .
The force faced a further blow when Assistant Chief Constable Bernard Higgins was one of four officers suspended at the end of November.
Mr Higgins, who denies any wrongdoing, returned to work last month but the Pirc is still investigating allegations of criminal behaviour and gross misconduct.
A notable triumph saw the Organised Crime and Counter Terrorism Unit bring one of Britain's most sophisticated and dangerous crime groups to justice.
The nine-man gang were jailed for 87 years following a massive investigation into crimes including kidnap, torture, drug trafficking and the importation of firearms.
By the end of January a seventh complaint had been made against Mr Gormley and on 7 February he announced his resignation.
The following week his predecessor was back in the news after the Met confirmed it had appointed Sir Stephen House as an assistant commissioner.
Last month saw a conclusion to two of the most unusual cases the force has investigated.
Former A&E consultant Dr Martin Watt was found guilty of possessing firearms with intent to endanger life.
And juror Catherine Leahy, 62, was convicted of taking a bribe during a five-month money laundering and drug trafficking trial.
Detectives also brought Banff man Connor Ward, 25, to justice for planning terrorism attacks.
As year five ended a major survey found people in Scotland feel safer walking alone at night than ever before.
---
What next for Police Scotland?
(Year six and beyond)
The SPA's top priority for the year ahead is the appointment of a new Chief Constable.
The recruitment drive will be launched in the summer and the successful candidate will take up the post by the end of the year.
Iain Livingstone, who delayed his retirement to take over as Mr Gormley last November, is the frontrunner but the job will attract interest from across the UK.
Both previous incumbents left under a cloud and it is critical that the new chief generates headlines for all the right reasons.
The force continues to face major financial pressures and the Auditor General previously warned it faces a £188m funding gap by 2020/21.
The controversial merger between the force and British Transport Police, which had been due to take place in April 2019, also has to be resolved.
Finally, the force must continue to adapt to the changing nature of offending, especially the boom in cyber crime, as it bids to implement its ambitious Policing 2026 strategy.