Why are tourists flocking to Scotland?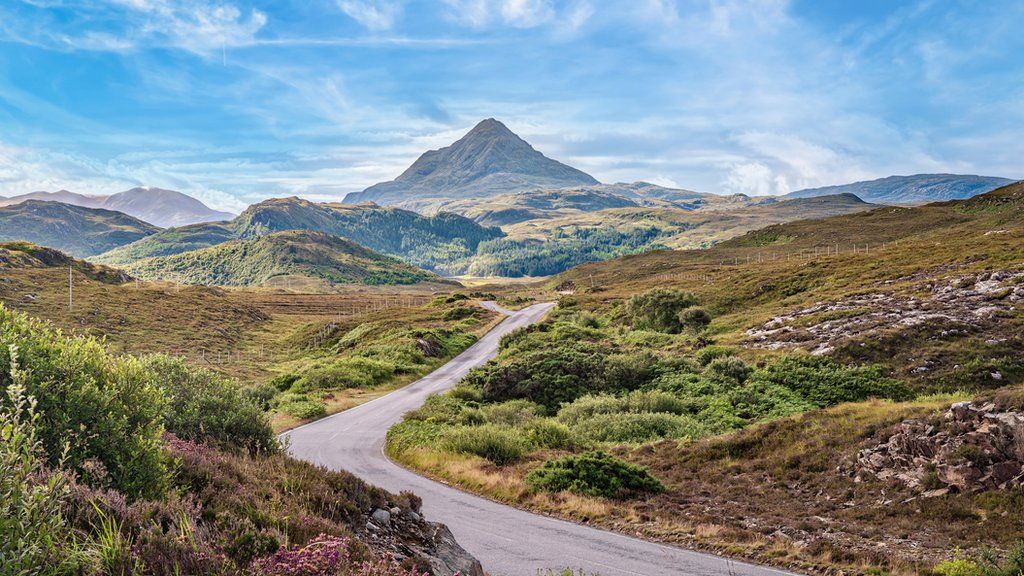 For the sixth year running, Scotland has outperformed the rest of the UK in attracting visitors to its tourist attractions. Edinburgh is the top UK destination outside London - but the whole country is benefiting from a tourism renaissance. So why is Scotland punching above its weight?
The lure of the big cities
When it comes to the big numbers, it's the cities that are really driving up the stats. London attracted 64 million visitors so it's little wonder it boasts the UK's top 10 visitor attractions in terms of numbers. But the 11th and 12th slots were both in Edinburgh, with the National Museum of Scotland and Edinburgh Castle for the first time chalking up more than two million visits apiece in 2017.
According to Bernard Donoghue, director of the Association of Leading Visitor Attractions, people have long wanted to come here, but new air routes and the fall in the value of sterling are helping.
"The UK and Scotland in particular is an aspirational destination," he says
"It's on practically everybody's shopping list - they want to come here at some point. New air routes and Scotland becoming more affordable has made that more of an opportunity."
He also believes Scotland is reaping the dividends of years of investment in major attractions.
"The National Museum of Scotland, for example. For the first time in a number of years, all of its galleries were open after years of refurbishment. That meant it was able to present itself to the world afresh," he said.
Glasgow's much-loved Kelvingrove Art Gallery and Museum and the spectacular Riverside transport museum which opened in 2011 each welcomed more than 1.3 million people through their doors last year
But smaller, privately-run attractions in the major cities also benefited. Mary King's Close - "a warren of hidden streets frozen in time" in Edinburgh - saw its numbers rise 9% to more than 245,000.
This autumn sees the opening of the new V&A Dundee, certain to become another "must-see destination" for many travellers.
The tourism sector has long been savvy to how a big TV or cinema hit can draw in visitors - and Scotland is cashing in on the success of Outlander.
The adventures of a 1940s nurse, transported back in time to the Jacobite rebellions in the Highlands, has captured the imaginations of millions of fans worldwide. There's no shortage of small tour operators ready to guide them around filming locations or sites steeped in the history of the period.
The Glenfinnan Monument to the fallen Jacobite clansmen saw a 58% increase in visitor numbers last year, reaching nearly 400,000. Nearby is another film tourism opportunity - the Glenfinnan Viaduct, made famous by the Hogwarts Express in the Harry Potter films.
"Historic Environment Scotland have seen a really significant increase in some of their properties - castles which ordinarily are popular but not visited by thousands of people. Because of the success of Outlander, for example, they've seen a real boost in film tourism," said Bernard Donaghue.
A decade ago it was a relatively well-kept secret - a circular route, often on single-track roads, through breathtaking scenery in the far north of Scotland. But no more. Now known as the North Coast 500, it has been cleverly marketed as one of the world's great road trips.
The roads are busier now. Supercars, camper vans and tourist buses are a common sight, creating a bonanza for businesses along the route. In the first year after its launch in 2015, one study estimated the NC500 attracted an extra 29,000 visitors to the region, generating £9m in revenue.
"Things like the North Coast 500 are fantastic at getting people to move away from the central belt and explore parts of Scotland they might not have previously considered," says Bernard Donaghue.
And where do the drivers go when you need to stop and stretch their legs? Inverewe Garden in Wester Ross, perhaps, where the numbers of people stopping to enjoy its ancient trees and exotic plants jumped by an impressive 110% in 2017.
Tourism can be vulnerable to international events - 2016 was a difficult year with terrorist attacks in France and Belgium thought to have been behind a big drop in visitors coming from Europe.
The national tourism organisation VisitScotland was determined that when numbers picked up, Scotland was high on the list of priorities.
VisitScotland's tourism insight manager Chris Greenwood says the 2017 focus was on history, heritage and archaeology
"When visitors think about Scotland, they think about landscape, they think about heritage and culture," he explained. "And they think about the people, the warmth of welcome.
"This is backed up through the media, if you think about films and television programmes about Scotland, Outlander for example. With this theme there was a consistent marketing of heritage and attractions and also the history as well. There was a strong product presentation that was very appealing to visitors."
Last year saw a new global marketing campaign, seeking to capitalise on emerging markets. Golf and whisky have long been major elements of Scotland the brand - but the message is broader than that.
"In some parts, potential visitors have that view of iconic brands - tartan, golf whisky - those brands they associate with Scottish heritage. But there are also a lot of people who see contemporary Scotland, who see shopping opportunities in Glasgow or adventure activities in Fort William," explained Chris.
"What I see is a unity within the tourism sector in Scotland, coming together and understanding what the visitor needs - and being nimble, agile and able to adapt to that - and that is what is going to keep Scotland competitive into the future."