Can opinions on Brexit be made into entertainment?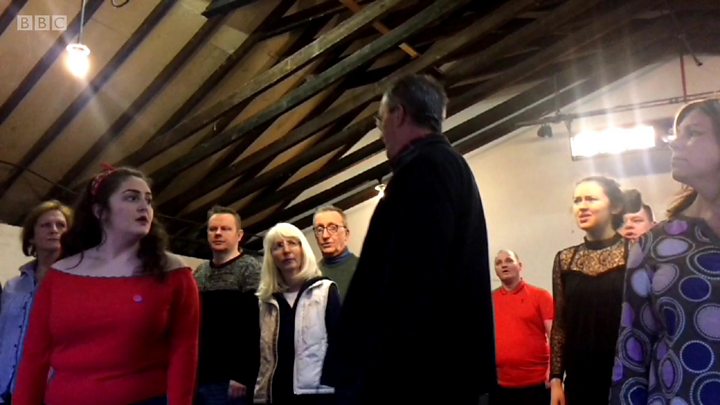 With just under a year to go until Brexit, the prospect of leaving the EU has evoked all kind of views and emotions but is there entertainment to be had too?
A new community production by the Citizens Theatre in Glasgow is using music, sketches and opinion in an effort to try to make Brexit just that - entertaining.
"Come Hell or High Water" examines people's hopes and fears for life outside the European Union.
There is a labyrinth of corridors backstage at the Citizens and from a small rehearsal room the sound of singing becomes louder and louder.
"This kind of thing really does bond you together," says cast member Mary Ann.
"I'm a big politics fan and I do think that it's theatre's role in many ways to reflect what's going on in the country at large."
She is part of a diverse cast of 25. There is an age range of more than 55 years, as well as a wide spread of experiences and views.
The production has been put together over several months.
Cast members were asked to find and interview people they might well disagree with on Brexit.
Those statements and other discussions form the backbone of the lyrics.
"I've taken the snippets that felt most musical and crafted the songs around that" explains composer and musical director Finn Anderson.
He has also tried to echo the way people spoke their words - the emphasis, were they fast, slow, loud or quiet - to form the rhythm of the songs.
Finn adds that he had to be sensitive to the fact he was working with real people's opinions and voices.
He says: "Although some songs are very clearly from one point of view because that's the point we're at in the play, we're trying to make sure that it constantly has that kind of debating chamber feel to it.
"We're not trying to make a point with it but we're basically giving a voice to all these conversations that have happened and setting them to music."
For another of the cast members, Desa, who is an asylum seeker, says taking part in the production has been a good social outlet.
She says: "Because I meet different people my English can improve and go more higher."
Desa hopes to be able to stay in Scotland and go to university.
Throughout the whole process no-one was asked explicitly for their views on Brexit.
That was deliberate, designed to make a space where everyone's opinion could be respected.
"If you use divisive language where people feel they've got to express a political persuasion that can be a little bit awkward," says Elly Goodman, a community drama artist at the Citizens.
"We make the atmosphere very comfortable so you can speak certain words through the body and voice of a character and so it keeps people safe and protected."
The group - made up of very different individuals - has come together for this production and each one has had an input.
"It's a hard one because you've got people in there who've got different political views," says cast member John.
He admits at times it has been stressful but it has really allowed him to express himself.
"It shows you how art has put them into that same room and in politics they would be different groups," he says.
"For me it builds up my confidence and gives me something to do. I've got a structure. I can come in here and feel safe."