Scottish churches plan to accept contactless payments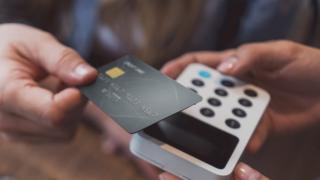 The Church of Scotland is drawing up plans to accept contactless payments in a bid to boost donations.
It is planning to run a pilot scheme offering the new technology at a number of churches across the country.
The Catholic Church has also expressed interest in the idea which, it said, "may be considered in the future".
The development emerged after the Church of England revealed members would be able to make donations by contactless cards, Apple or Google Pay.
About 16,000 churches south of the border will offer the faster way to pay at special events like weddings and christenings.
Donations are traditionally made to churches in cash or by standing order.
Anne Macintosh, the general treasurer of the Church of Scotland, said they work with the Church of England in areas of shared interest.
She added that they were "very excited" by the success of a trial of contactless payments at 40 English churches last summer.
"Our own stewardship team has been looking at this and we have identified a number of churches with a view to piloting contactless payment terminals in the near future," she said.
"We envisage that these could be used for many purposes including retiring collections and donations by visitors to our historic churches and cathedrals.
"Regular giving to our congregations is largely made by standing order which is hugely important.
"But we know that there are many occasions when special collections are held or people would like to give spontaneously but just don't carry much cash.
"We think there is huge potential for congregations here, not only to raise extra income, but to show that the Church is moving with the times."
A spokeswoman for the Catholic Church said there was interest in the idea of using payment terminals in some dioceses and they may be considered in the future.
Bishop John Keenan, the Bishop of Paisley added: "This is an evolving situation here in the UK and our parishes and laity are adapting continually with the times, and we see the balance changing markedly on parish accounts between direct debt payments on the one hand and basket collections on the other.
"My message was always, 'I am not asking you to give more but to give more thoughtfully'.
"It is about praying about what you can and should contribute, seeing your contribution as a witness to your life of faith, thinking of the needy, and offering it up like the first fruits of people of God in the Scriptures."