Will Scottish gin find Brexit a tonic or a bitter lemon?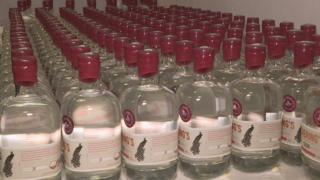 Scottish gin is enjoyed by customers across Europe, but how will its export to the trendy bars of Vienna be affected by Brexit?
Whisky may be Scotland's biggest export but there is an increasing demand for Scottish gin.
According to Leah Shaw-Hawkins, 70% of the UK's gin is made in Scotland, including a lot of the big brands.
Ms Shaw-Hawkins is brand manager for Pickerings of Edinburgh, one of the smaller craft gin makers.
They opened their distillery doors to let us have a look before their products were exported to Austria where I will be there to meet them and talk to the people who import them.
Ms Shaw-Hawkins gave me the guided tour.
"We're right in the middle of a distillation," she says.
"We're currently taking off the heart of the spirit which is the good stuff and that will go into making a bottle of gin.
"You get a big hit of juniper, citrus and a big waft of spice. It definitely smells like a gin distillery in here today."
Once the gin is bottled, one worker hand-seals the top with wax and another packs in a box and then on to a pallet.
Upstairs in the management suite, owner Marcus Pickering is considering what Brexit means for him and his company.
"The thing for us is long-term planning and all we really want to know exactly is what is going to happen?
"Once we know what's going to happen, we can plan for it. But without knowing, it's so difficult for any business to plan in the UK.
"And also for confidence of our customers overseas - to have confidence in us as a business they want a five-year plan."
Distilling the facts on EU trade
This is how the EU works just now.
We are in the EU Customs Union, so goods move freely across the borders.
The same level of duty applies to goods coming in from outside.
We're also in the Single Market - that's an even deeper form of integration.
Goods move freely - but there are also strict rules that apply to products like gin -maintaining and protecting quality.
Services, investment and, controversially, people also move freely in a single market.
Marcus Pickering takes a pragmatic view about Brexit - he's not coming down on either side.
He does, however, say this about the current set-up: "It makes life very easy for us, so if we're exporting a product into Europe there's no problem, there's no hold up in customs, there's no delay with paperwork.
"For instance when we export to China, there must be 15 forms that have to be filled in."
Back outside the distillery, a van has arrived from Glasgow.
Justin Reddy, one of the staff members here, puts the pallet onto the forklift and loads up the lorry.
It will return to its central hub in Glasgow before another truck drives down to Dover, crosses to Calais and motors through France and Germany, en route to its final destination of Vienna.
It's wet and windy in the Austrian capital when I arrive.
I'm going up in an old-fashioned lift in a grand apartment building to meet Thomas Gillespie of "Gillespie & Partners".
Mr Gillespie is the Austrian importer of Pickering's Gin from Edinburgh, as well as a whole host of whiskies.
With a Scottish father and Austrian mother, he's the ideal go-between.
Like Mr Pickering, he says the European Union provides certainty at the moment.
"It means we buy a product as if it was produced in Salzburg," he says.
"It's very easy - transport-wise, documentation-wise and the systems have been developed over, say, the last 30 or 40 years and the goal was to make movement of goods as simple as possible which means cheaper.
"We don't know what the future can bring because nobody will tell us. The only thing we know for sure is it won't make life easier, it will complicate it."
Again, there's a lack of knowledge about how things might pan out - which can be tricky, as Mr Gillespie is already in negotiations with huge European supermarkets about Christmas 2019.
That's after Brexit but during the "transition period".
From Mr Gillespie's "emporium", we take a taxi to meet one of his clients in the heart of old Vienna.
Ludwig Köstler runs the well-established wine and spirits shop, "Vinothek St. Stephan".
There's a familiar theme emerging among these suppliers.
He says: "I think the import will not be easier.
"For example, Switzerland is not in the European Union so we don't import so often, we're looking at other countries first to get the product because it's much easier to import."
Switzerland has high-level access to the Single Market - but that's not enough for the Scottish government when it comes to a post-Brexit relationship.
The first minister has been arguing the UK should remain in the single market and customs union after Brexit.
Labour want a new and comprehensive customs union - but not the single market, as that allows free movement of people.
The UK government says they're leaving the single market and customs union - aiming now for an "ambitious" free trade agreement.
But as night falls, it's time to enjoy these products that have travelled such a long way from Scotland.
As the rain comes down, the camera crew and I sweep into the Hotel Sacher, a venerable Viennese institution and home of the much-loved Sacher Torte.
It's not time for coffee and cake though - steak and wine and whiskies are on the menu for a British ex-pat dining club which meets at the hotel.
On the thick carpets and underneath the grand chandeliers, I meet a retired British army brigadier.
David Wills has lived in Austria for 14 years - and his Brexit outlook is much brighter and more optimistic than what we've heard.
He's welcoming Brexit and is critical of the EU, saying: "I think there are too many layers, it costs too much.
"I think there's a ton of corruption and I think the average man in the street doesn't feel as if he's voted for these people who are making their decisions in Brussels."
But I find a different, British expat view across town at a pop-up bar called "The Velvet Rooms".
Diane Davis is from Wales and she's lived here for nine years. At the moment, she works for the Austrian government.
She says: "I think for us, the expat community living here, it's an absolute disaster.
"It's caused a lot of insecurity, people don't know where they are, people don't know how to plan or what to do. It's just caused a lot of problems."
Diane's been served at the bar by Reinhard Pohorec, an award-winning bar tender and "mixologist".
He serves Scottish gin and whisky, seeing them as absolutely key, quality products for anyone in his line of work.
Although he admits to some anxieties about Brexit, he says: "I think ultimately both parties will be fine and both sides will somehow find a way to make it happen because you have to.
"The whole world, the whole bar industry relies on Scottish products and we actually don't want to stop working with those beautiful products."
Not far away from the bar at Praterstern, the famous (British built) Ferris wheel turns gracefully in the Viennese night sky.
A year from now, the Brexit "wheel of fortune" will be spinning - either bringing windfalls to the Scottish exporters and Austrian importers - or perhaps misfortune.