'Nobody puts Shetland in a box'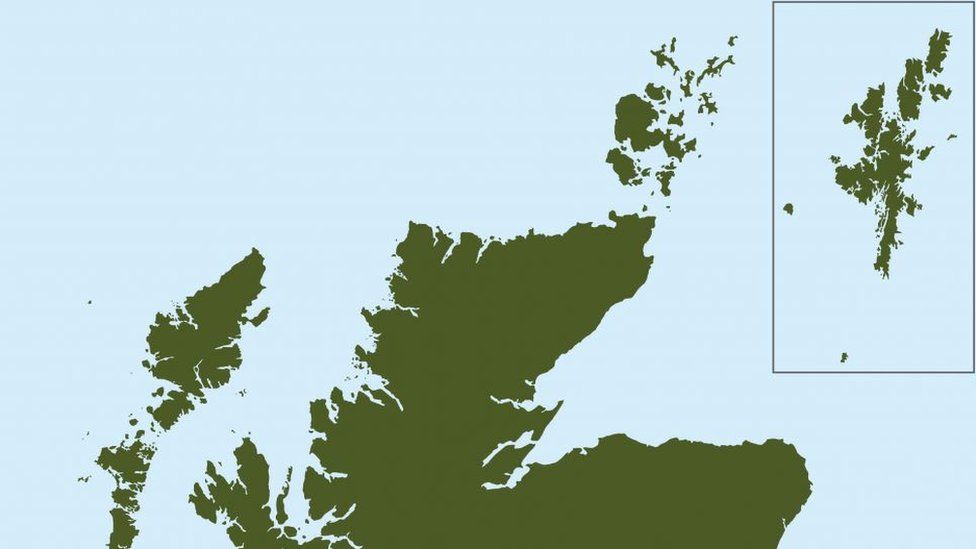 MSPs have effectively banned public bodies from putting Shetland in a box in maps in official documents. What is going on?
Shetland is more than 100 miles away from the Scottish mainland, as the crow flies. It takes 12 hours to get there from the mainland on a ferry. It is, by any measure, quite far away.
But looking at a lot of maps, that might not be immediately clear. Often as not, Shetland might show up enclosed in a box in the Moray Firth or in the North Sea off Aberdeenshire.
This isn't a new thing. The National Library of Scotland's map collection includes various examples dating back to the middle of the 17th Century where Shetland - and indeed Orkney - are corralled into boxes.
Examples abound, from bank notes to the covers of government reports. But one representative of the islands fears that such maps are not properly representative of the islands.
What harm does the box do?
Tavish Scott, the Lib Dem MSP for Shetland, says that putting the islands in a box causes people to forget about the challenges they face on account of their remote location.
He said: "The logistics of getting to and from Shetland are all too often forgotten, and this has had an impact on the crucial economies of the islands, for instance the movement of oil, gas and seafood.
"Recognising where Shetland is located would go a long way to understanding the challenges we face as an island."
This isn't just an issue for Shetland, either. Despite being closer to the mainland, Orkney has been affected too, according to MSP Liam McArthur, a Lib Dem colleague of Mr Scott.
He said using boxes is not a superficial issue, but one which "gives rise to a misconception about our islands" - namely that they are "a good deal closer to the mainland than is actually the case".
Cartographers argue that because maps are drawn to scale, at a certain point they are left with a choice between having Shetland in a box or not on the map at all.
Mapping agency Ordnance Survey says that using inset boxes avoids "publishing maps which are mostly sea".
A spokesman for the company said: "The Shetland Islands are approximately 245km (152 miles) from the Scottish mainland, from the most northerly part of the Shetland Islands to John O' Groats, and 690km (428 miles) from the most southerly point of the Scottish and English border.
"It would be virtually impossible to print a paper map, with any usable detail, of this vast geography."
Mapmakers also point out that Shetland is far from alone in this regard. Elsewhere in the UK, the Isles of Scilly off Cornwall are routinely boxed, while two of the United States of America - Alaska and Hawaii - often get the same treatment.
Mr Scott has been campaigning for a "Shetland mapping requirement" to be put down in law.
This would require public authorities to display the islands "in a manner that accurately and proportionately represents their geographical location in relation to the rest of Scotland" whenever they publish a map of the country.
Basically, it would bar public bodies from putting Shetland in a box - or publish their reasons for why they feel they have to.
What do other people think?
Islanders themselves are quite squarely behind Mr Scott's complaint - asked by the BBC, local residents described map boxes as "really annoying", "silly" and "ridiculous", saying that "we should be where we belong".
A Facebook group campaigning to "get Shetland on the map" has gathered more than 1,600 followers. This might not sound like a huge number, but it would represent more than 7% of the islands' population.
The group collects examples of maps which place Shetland in weird and wonderful locations - including, faintly embarrassingly for Mr Scott, some Liberal Democrat campaign material which transported the islands to a spot off Fraserburgh.
Skip facebook video by BBC The Social
Allow Facebook content?
This article contains content provided by Facebook. We ask for your permission before anything is loaded, as they may be using cookies and other technologies. You may want to read Meta's Facebook cookie policy, external and privacy policy, external before accepting. To view this content choose 'accept and continue'.
The BBC is not responsible for the content of external sites. Facebook content may contain adverts.
End of facebook video by BBC The Social
There was also cross-party sympathy when Mr Scott first raised the issue at Holyrood's rural economy committee.
SNP backbencher John Mason - no stranger to cartographic controversy, given his previous insistence that Skye is not an island - said he was "enthusiastic" about the idea of banning boxes.
This was echoed by SNP member Richard Lyle - via a brief diversion around his annoyance at the shape of the BBC weather map - and Scottish Conservative MSP Jamie Greene agreed that "nobody puts Shetland in a box".
However, fellow Tory Peter Chapman said he had consulted map specialists who thought it would be "inappropriate" to bar mapmakers from using boxes.
He said this would reduce the scale of maps of the whole of Scotland by 40% - a "loss of detail" for much of the mainland just to add in "a whole chunk of sea".
Mr Scott has managed to get his mapping rule onto the statute book via an amendment to the Islands (Scotland) Bill.
Humza Yousaf, the Scottish government's minister for the islands, accepted that this is a "really serious issue" in perception of the islands, saying he wouldn't want his Glasgow Pollok constituency to be depicted elsewhere in the central belt - "or, heaven forfend, Edinburgh".
He put forward an amendment to Mr Scott's amendment giving public bodies a bit more of a get-out clause, saying they could still go against the "mapping requirement" if they published their reasons for doing so, but otherwise threw the government's backing behind the plan.
And although Mr Chapman again raised his complaint about reduced scale, the amended amendment was agreed unanimously.
This means that when the newly-passed bill becomes law, nobody - or at least, no public bodies - will be able to put Shetland in a box.