The papers: Thumbs up from hit-and-run girl after broken neck op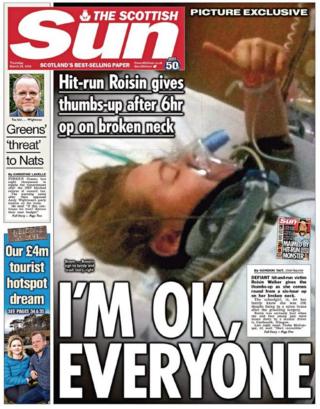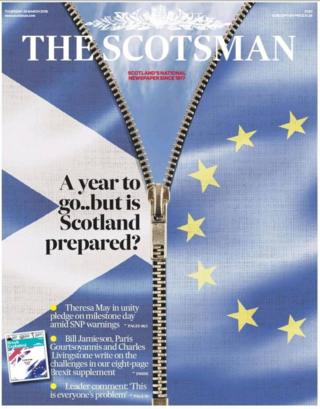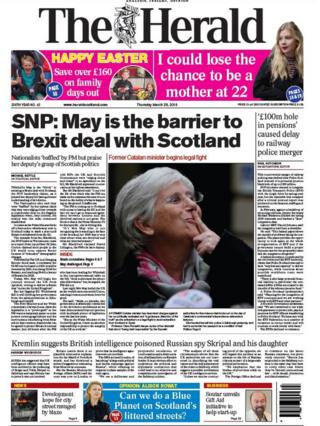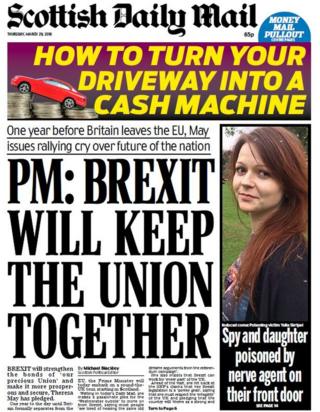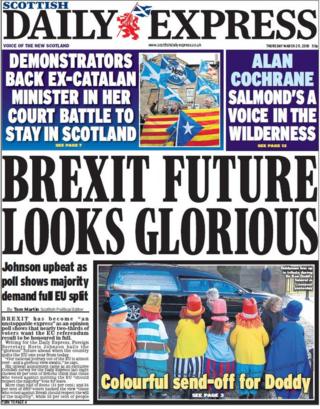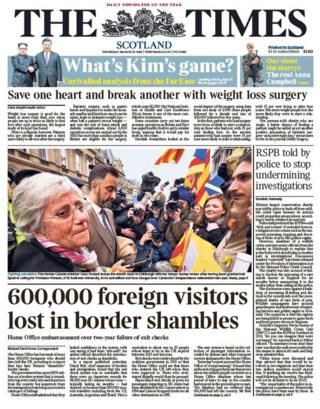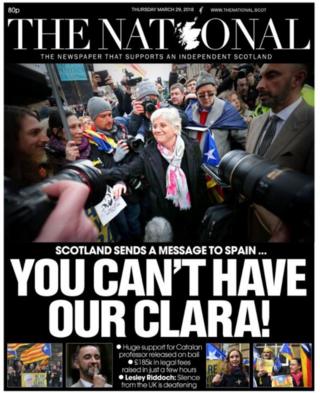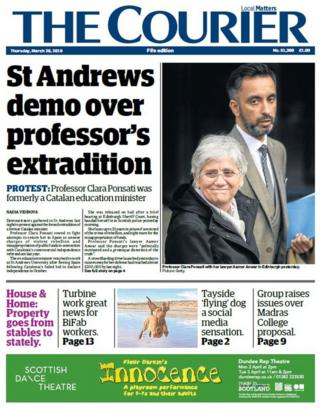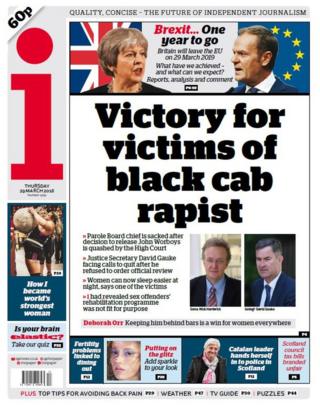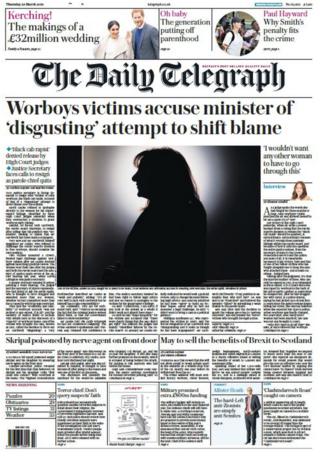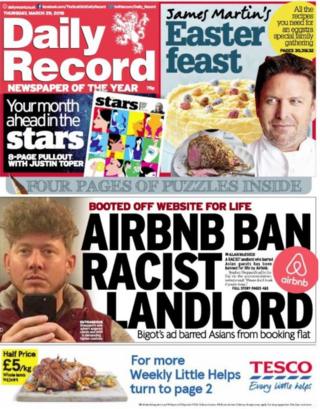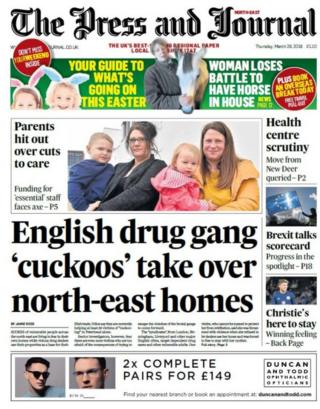 A thumbs-up from Roisin Walker is the exclusive picture gracing the front of Thursday's Scottish Sun.
The defiant teenager lets loved ones know she is okay after a six-hour operation to repair her spine, an injury she sustained when a car drove into a group of children in Glasgow's Castlemilk on Saturday.
The Scotsman is one of a group of papers leading with Brexit exactly one year before the UK splits from the EU.
The paper asks: "Is Scotland prepared?"
As the prime minister begins her four-nation whistle-stop tour in Scotland later, the Herald claims Theresa May is "the block" to the SNP getting a deal on the Brexit bill.
"Brexit will make the the union prosperous and more secure" claims The Scottish Daily Mail, quoting a pledge from Mrs May.
"A glorious view awaits", claims Boris Johnson about the UK's Brexit future in the Scottish Daily Express.
The home secretary hails the one-year countdown to "unstoppable Brexit" saying that the journey is almost over.
The Times leads with a report suggesting the Home Office has lost track of more than 600,000 foreign people who reportedly "should have left the UK".
In the paper, a report calls border checks "shambolic" and claims Home Office staff lack confidence in the system.
"You can't have our Clara", says The National in its coverage of the arrest of former Catalan minister Clara Ponsati.
The paper says her case may last for months after she was granted bail at Edinburgh Sheriff Court yesterday.
The Courier's Fife edition also leads with this story, covering demonstrations from students at St Andrews University in support of their former professor.
One of black cab rapist John Worboys' victims says women can "now sleep easier" after judges dismissed the decision to release him, according to the i newspaper.
The Telegraph claims some of Worboys' victims want the justice secretary, David Gauke, to resign over the initial decision to grant the taxi driver's early release - which was overturned on Wednesday.
A "racist" landlord is on the front of Thursday's Daily Record.
Stephen Sheppard has been banned for life from Airbnb after posting a sickening note barring Asian guests.
The Press and Journal's top story is about a Peterhead woman living in fear after her home was overrun by drug dealers.
The paper says community constables, alongside substance misuse workers, are currently helping about 30 people in Peterhead who are being exploited through the practice known as "cuckooing".