Fortnite 'not addictive' says researcher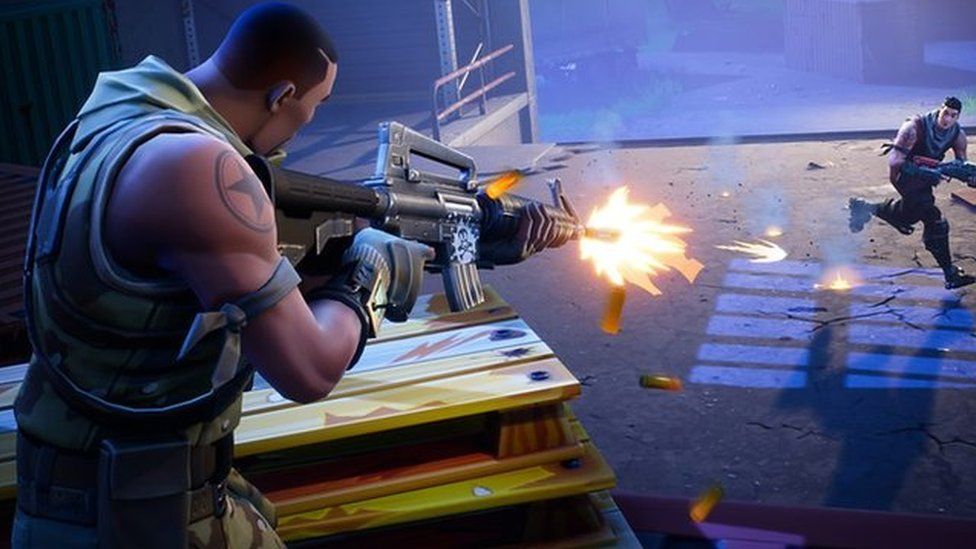 Fortnite, the video game whose sudden rise has grabbed the imagination of gamers, is "not addictive", a Scottish university researcher has claimed.
Andrew Reid, a doctoral researcher of serious games at Glasgow Caledonian University, said people found the game hard to stop playing.
But he warned against using the term "addictive", which could stigmatise regular consumers of video games.
He said some research showed "positive characteristics of play".
After six years in development Epic games released Fortnite in July 2017.
It is a co-operative survival shooting game that lets players build structures out of materials they scavenge from the game world.
Its most popular format is the Battle Royale mode which pits 100 players against each other, some of whom are in small teams, to see who is the last person standing.
The game is free but players can spend real money on in-app purchases.
Concerns have been raised about hackers getting access to accounts used for purchases and over the potential dangers of children playing the game online with strangers.
Since last year's release, it has been available to play on gaming devices such as the Xbox One, PlayStation 4, as well as PC and Mac.
It has recently become available on some mobile devices.
Mr Reid said the game was proving very popular because it was "carefully created to deliver a truly engaging experience".
He said the gaming experience was different for each player and changed each time.
Mr Reid said there was scope for further research on what constituted video-game addiction but it had been "suggestively been defined as the excessive consumption of games that conflict with everyday living".
The researcher said it would be better to consider the reasons for wide and regular consumption of video games without calling players "addicts".
"To do otherwise would be to stigmatise the medium as an evil to our society, despite a growing portfolio of video games and research that reinforce the positive characteristics of play and interactivity," he said.
Mr Reid said Fortnite had a "cartoony, exaggerated style" unlike 18-rated games such as Call of Duty whose hyper-realistic style may have different consequences on children's perceptions.
He advised parents to try to encourage children to play in moderation.
Mr Reid added: "I'd also suggest playing Fortnite yourself to understand why children might be interested in it - so that you can speak the same language and get on the same wavelength."