Deer warning for Easter hill users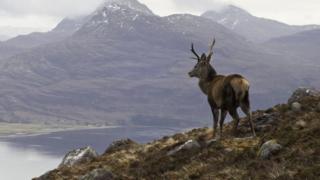 Hill users have been urged to avoid stressing deer - who may have been weakened by the prolonged winter.
The Scottish Gamekeepers' Association said deer have been hit hard as food sources were buried under deep and drifting snow.
It said the weather drove deer from high ground and, in many cases, the animals have been too weak to return.
Walkers taking to the hills over the Easter weekend are more likely to come across deer.
Stalker Lea MacNally said: "Every winter there is an expected natural mortality but there has been much higher than normal mortality this year.
"Deer are having to expend a lot of energy scraping down through frosted snow to get to food and, in many areas, snow hasn't lifted for a long time. The deer's backs have not been dry for months and some calves are barely standing.
"If folk are out and about over Easter, where possible, they should try and give the deer a wide berth so as not to move them out of shelter. Disturbance causes deer to move and, if people take care to avoid that, it could make the difference between life and death for weakened animals."