Rise in pupils with visual impairments
By Ian Hamilton
BBC Scotland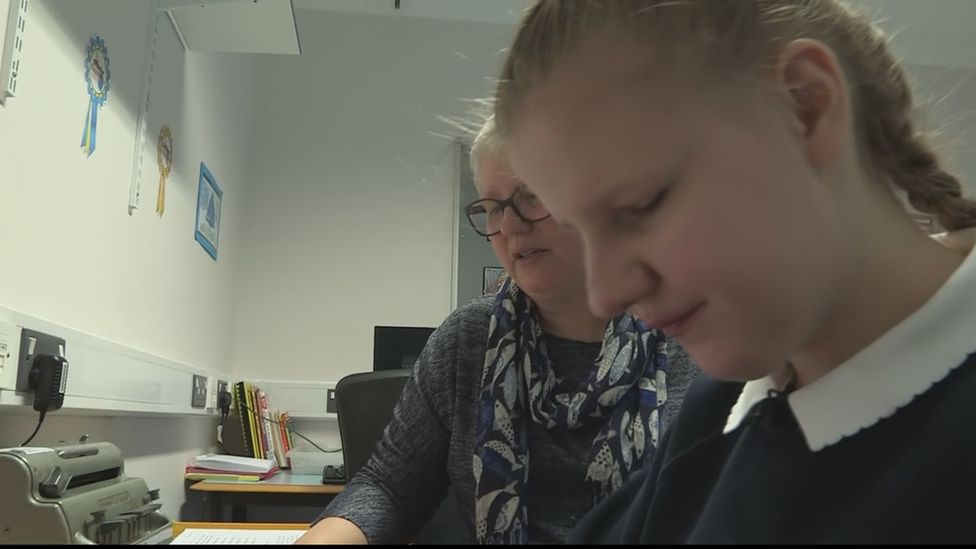 The number of children with a significant visual impairment has doubled in Scotland's schools over the past eight years, figures show.
Experts said the rise was largely down to the improved survival rates of premature babies.
There is also more recognition for forms of sight loss that affect the brain rather than the eyes.
Professionals and parents are concerned the increase has not been matched by improvements in specialist training.
She has a condition called Retinopathy of Prematurity (ROP) after being born at just 24 and a half weeks.
ROP, which is also called retrolental fibroplasia (RLF) and Terry syndrome, is a disease of the eye affecting prematurely born babies generally having received intensive neonatal care.
Amy is a pupil at the Royal Blind School Edinburgh, where she is learning Braille.
She said she loves school.
"I've got loads of friends and loads of things to do," she said.
"When it is weekend time it is quite hard because you miss all your friends and you want to stay in school, because you love it that much."
Amy is one of 4,331 visually impaired pupils in Scotland's schools - a figure that has more than doubled from 2,005 in 2010.
The number now reflects more than six pupils in every 1,000 in Scotland.
More and more visually impaired children are going to mainstream schools.
The numbers going to the Royal Blind School are going down and they are ones that have more complex needs.
Aaron has cerebral visual impairment (CVI).
His mother Helen said: "It means very simply that the visual impairment is due to the brain and not the eyes.
"It is now the most common form of visual impairment in children in economically developed countries across the world.
"The increase in numbers is due to improvements in neonatal care.
"Very young premature babies are surviving but there are sometimes issues."
Children with CVI may have a degree of vision but what they see could be confusing and distressing. It requires specialist teaching.
Elaine Brackenridge, head teacher at the Royal Blind School, said there were number of challenges.
She says: "One is the range of CVI. You do have children who are performing very well in school with cerebral vision impairment.
"There are other children who have got severe and complex needs and for those young people it takes a long time to get to know them."
With more visually impaired children in Scotland's schools, many parents and professionals are concerned there are not enough specialist teachers to support them.
Related Internet Links
The BBC is not responsible for the content of external sites.