Scottish finance firms among worst for gender pay gap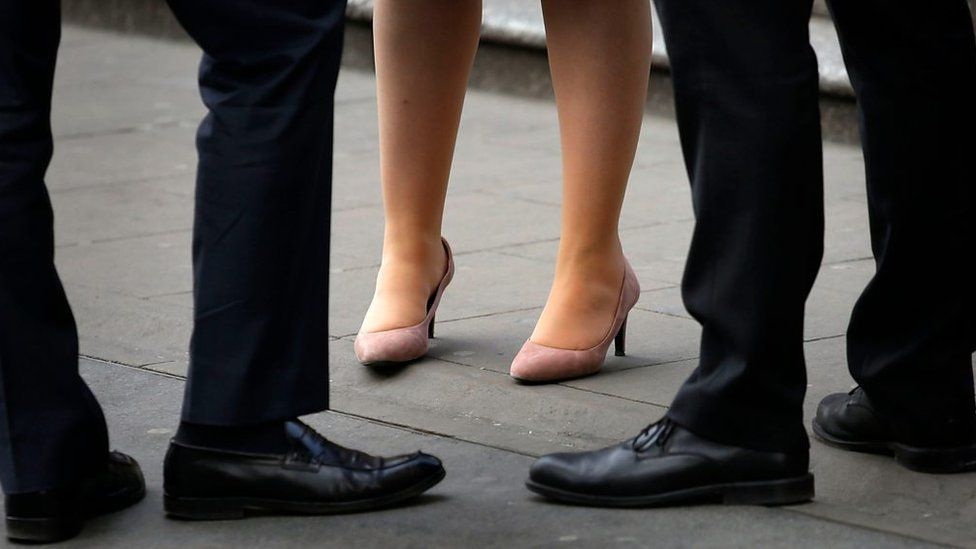 Scottish banks and financial services firms pay men far more than women on average, according to gender pay data.
All UK companies with 250 or more employees were required to publish the information by midnight, including hundreds of firms based in Scotland.
BBC analysis showed financial giants such as Standard Life, Aberdeen Asset Management and Royal Bank of Scotland had some of the worst gender pay gaps.
Their average median hourly rate for women was 37% lower than for men.
That means an average woman at these firms earns 63p for every £1 the average man gets paid.
Want to find out the gender pay gap at your company? Try the calculator below.
Other finance services companies such as pensions and investment firm Aegon (-27.3%) Clydesdale Bank (-36%), Lloyds Bank Group, which includes Bank of Scotland, (-32.5%) and TSB Bank (-24%) also paid men far more than women on average.
Meanwhile, Dundee-based investment firm Alliance Trust had a -19% pay gap, Scottish Widows -16.5% and Edinburgh-based Tesco Personal Finance was -14.6%.
The new data also showed men were paid far more in bonuses at Scotland's top financial institutions.
While the same percentage of women and men received a bonus at Standard Life, the amount was on average 68% less for women. Aberdeen Asset Management recorded the same figure.
Both firms had just 18% women among their highest paid staff.
Scotland's biggest company, power firm SSE, paid women 19.3% less on average with one of its subsidiary companies, Scottish Hydroelectric Transmission, paying 36.1% less to women.
Other energy giant, Scottish Power, had a gender pay gap of 21.9%, with women being paid less than men.
The National Museums of Scotland was one of the few organisations where women were paid more than men on average (+15%).
Livingston-based retailer Schuh said its median hourly rate for women was 0.5% higher than for men.
What is the gender pay gap?
The gender pay gap is the percentage difference between average hourly earnings for men and women.
Across the UK, men earned 18.4% more than women in April 2017, according to the Office for National Statistics (ONS).
That figure is the median average, which is the level of pay in a firm at which half of staff earn more and half earn less.
The gender pay gap is not the same as equal pay. Equal pay - that men and women doing the same job should be paid the same - has been a legal requirement for 47 years.
A company might have a gender pay gap if a majority of men are in top jobs, despite paying male and female employees the same amount for similar roles.
Scottish firms - some highlights
BBC Scotland analysis of the data showed airline Loganair had one of the largest gaps, paying women an average 39.4% less than men or 61p for every £1 that men earn.
Its managing director Jonathan Hinkles said: "Our gender pay gap is influenced by the salaries and profile of our pilot and engineering teams, who are predominantly male, and make up more than half our employees.
"Our figures are better than many other airlines, due to 12.4% of our pilots being female, more than double the UK airline average - and we are continuing to do what we can to encourage more females into this area."
Others paying men more than women include:
Scottish Rugby Union (-35%)
Babcock marine (-30.4%)
Abellio ScotRail (-27.2%)
National Trust for Scotland (-21.4%)
Scottish SPCA (-20%)
Arnold Clark Automobiles (-10.1%)
Alexander Dennis bus manufacturer (-4.6%)
Prestwick Airport (-22.1%)
Aberdeen Airport (-16%)
Edinburgh Airport (-14.1%)
Glasgow Airport (-9%)
STV (-17.3%)
DC Thomson (-15.7%)
Scottish Daily Record/Sunday Mail (-15.5%)
Sky Subscribers Services (-3.5%)
Tennents Caledonian (-21.3%)
Edrington distillers (-13.3%)
Chivas brothers (-11%)
William Grant distillers (-10.5%)
AG Barr (Irn Bru) (-3.4%)
Wood Group (-23.1%)
Aggreko (-15.9%)
Petroineos manufacturing (-6.6%)
Scotland Gas Networks (-6.6%)
Rangers (-20%)
Aberdeen (-17.7%)
Celtic (0% - no gap)
Some have criticised the exercise, which also applies to charities and public sector bodies, as a crude mechanism open to misinterpretation.
However, gender equality campaigners say it represents an opportunity for employees to talk about pay and find out what their colleagues earn.