Jacob Rees-Mogg accused of 'copying' Walter the Softy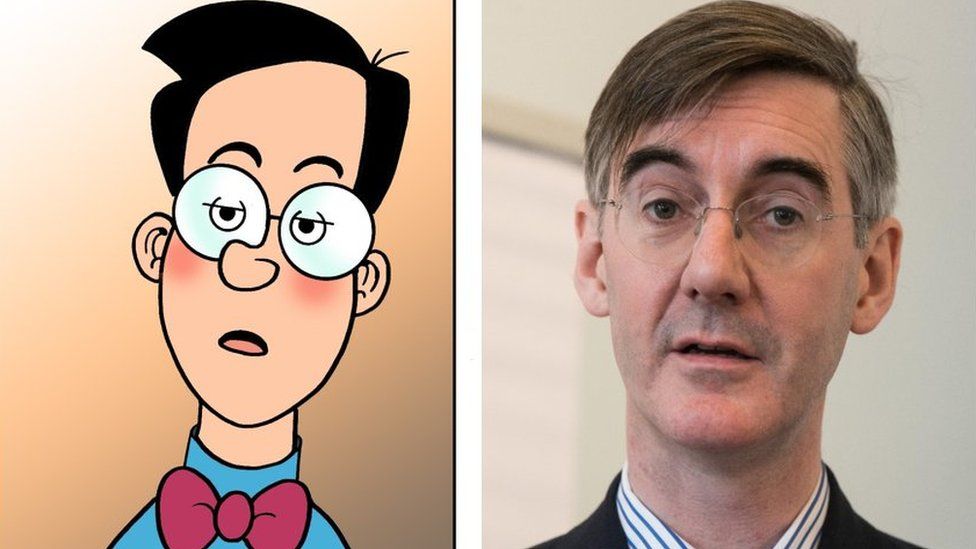 The Beano comic has issued a cease-and-desist letter to MP Jacob Rees-Mogg claiming he has modelled himself on its character Walter the Softy.
The Scottish-based comic accused the Tory MP of "masquerading" as Walter Brown, a foe of Dennis the Menace.
It listed traits including his side parting, round glasses and "snootiness" as "distinctly copying" the character.
Mr Rees-Mogg said the move was "all harmless fun", adding that "compared to me, Walter is Mr Muscle".
In the letter, addressed to the North East Somerset MP at the House of Commons, Mike Stirling, head of Beano Studios Scotland, said Mr Rees-Mogg had been "infringing the intellectual property rights of one of our cartoon characters".
He said it was "evident there are numerous instances whereby you have adopted trademarked imagery and brand essences of the character to the benefit of enhancing your career and popularity".
The letter included a list of seven points of contention, including "the character's choice of spotty ties and vintage apparel", "the character's bullish behaviour with peers and stopping others from having fun", and "snootiness".
Questioned about the letter, Mr Rees-Mogg told the BBC that it was "very jolly stuff".
He said: "I'm a fairly weedy fellow, I just can't compete with the macho behaviour of Walter.
"I did read the Beano as a child but I never thought I'd model myself on Walter the Softy."
Addressing the specific allegations in the letter, Mr Rees-Mogg insisted that he was "in favour of other people having fun" and said "snootiness is really rather unpleasant".
Related Internet Links
The BBC is not responsible for the content of external sites.