Warrant for Catalan minister details 'violent revolt'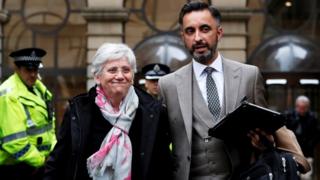 A former Catalan minister fighting extradition from Scotland to Spain faces charges of causing widespread violence against police.
BBC Scotland has obtained a copy of the European arrest warrant for former education minister Clara Ponsatí.
The St Andrews University professor is wanted in Spain on charges of rebellion and misappropriation of public funds.
Ms Ponsati's lawyer Aamer Anwar said: "My client Clara Ponsati utterly refutes the charges."
He added: "Clara is an esteemed University professor who has never committed a criminal act in her life. As an education minister for just over two months along with her government she promoted a peaceful referendum, yet if extradited and convicted could face a sentence of up to 33 years, thus facing the real prospect of spending the rest of her natural life in prison.
"We are instructed to submit that this warrant is a desperate and politically motivated prosecution by the Spanish authorities. Across Europe lawyers have already successfully challenged the credibility of the charges of violent rebellion.
"Now in Scotland Clara is accused of orchestrating violence, yet the warrant fails in over 19 pages to ever specify a single act of violence or incitement attributable to her."
Polling stations
The warrant includes lengthy details of violent confrontations at polling stations across the region.
Prof Ponsatí is being pursued by the Spanish government over her involvement in last year's Catalan independence referendum, which was ruled illegal by Spanish courts.
She handed herself in to police in Edinburgh in March, and was subsequently released on bail following a preliminary hearing.
The case is due to call in the Scottish courts again on Thursday.
The arrest warrant says that the more serious crime of rebellion applies to those "who revolt violently and publicly" for purposes including "declaring the independence of a part of the national territory."
To back up that claim of violence, the warrant lays out in detail injuries it says were suffered by officers of the Spanish security forces as they tried to prevent October's referendum from taking place.
At one Barcelona polling station it says "around 300 people impeded the access of the officers attending...who suffered attacks consisting of kicks and punches as well as multiple insults".
Elsewhere, in Tarragona, and officer is said to have "suffered the impact of a projectile in his right eye" after "a crowd...attempted to impede the action of the officers".
The warrant goes further, blaming civilians - incited, it says by the Catalan leadership - for violence on the part of the police, saying that "a gathering of approximately 250 people...impeded the access to the polling station...generating the aggression of the officers who intervened."
The Catalan government said that more than 900 civilians were injured as a result of police action on the day of the referendum.
The warrant concedes that the police used force, but says ministers in Barcelona were warned there would be violence and went ahead with the vote anyway.
On the lesser charge of misappropriation of public funds, the warrant estimates that the referendum cost over €1.6m (£1.4m) to hold.
There is no suggestion that any Catalan minister profited from the vote.
Police action
Aamer Anwar said the Spanish authorities have not acknowledged violence by their police officers in Catalonia.
"There is also no mention of the actions of several thousand Spanish police and 6,000 State Security Forces accused of carrying out brutal attacks on an unarmed civilian population at over 2259 polling booths," he said.
"In a civilised democracy Police Officers are the guardians of law and order, who take an oath to protect the public they serve. Sadly the Spanish state security force's behaviour on October 1st and since, has been described as a return to the dark days of Francoism and what we one would expect in dictatorship rather than a modern European Democracy.
"To date not one single Spanish police officer has been arrested or prosecuted for their violent actions against a defenceless population and we will submit the warrant is a grotesque distortion of the truth."
Following the referendum, Prof Ponsatí fled to Brussels alongside former leader Carles Puigdemont, who has been bailed from a court in Germany.