'You don't see it as abusive until someone tells you'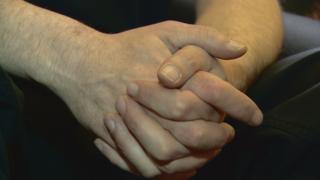 Looking back, Alan does not know why he did the things he did to his girlfriend.
"I don't know what was going through my head," he says.
"I wasn't thinking straight."
Alan, not his real name, was convicted of assaulting his partner in a domestic abuse incident and referred to the Caledonian System, which works with male perpetrators to address their violent behaviour.
"Once I came here and looked back on it you have a different picture," he says.
"You see what is going on once you reflect on it but at the time you don't know what's going on. It's just a mess."
Alan says he was drinking heavily and constantly getting into fights.
His treatment of his girlfriend was "not very nice".
"It was a bad time," Alan says.
"It's hard to explain. You are just not thinking straight, everything is up in the air and it is just chaos."
The Scottish government says domestic abuse levels remain "unacceptably high" and it has announced an extra £2.8m for the Caledonian System.
The aim of the scheme is to make men face up to their abuse and recognise the causes.
It also offers support to partners and children.
Alan says, at first, he did not think it would benefit him.
"I did my first interview and said 'I'm not coming here' because it did not seem like me," he says.
However, after having time to think about it he began to see that he needed help to tackle his behaviour.
"At first you have a few months of talking one-on-one with a social worker," he says.
"After that you go to the group stages and there are exercises and you discuss stuff and support each other."
Alan says it has changed his view of himself.
"It is hard to admit it but you are seeing a lot of stuff that is abusive which you didn't consider abusive before," he says.
"There is some stuff you just don't see as abusive until someone tells you and then you think 'that's quite bad'."
Alan says he now feels more confident that he can control his behaviour.
"I can sit with my feelings better than I used to," he says.
"They don't boil over and cause anxiety or anger."
He says the key is to notice the "triggers" which would have in the past set off a violent reaction.
"It's about learning how to deal with situations better and not just fly off the handle," he says.
"I have never drunk alcohol since and I've never had any problems so I'm assuming that's helped, along with behavioural changes and the understanding of what's going on," he says.
How confident is he that it won't happen again?
"You can't say 100% but as close as possible, I'm really confident."
"I feel a lot better and imagine people around me feel a lot better and general life is so much better."