How to tackle Dundee's fake valium epidemic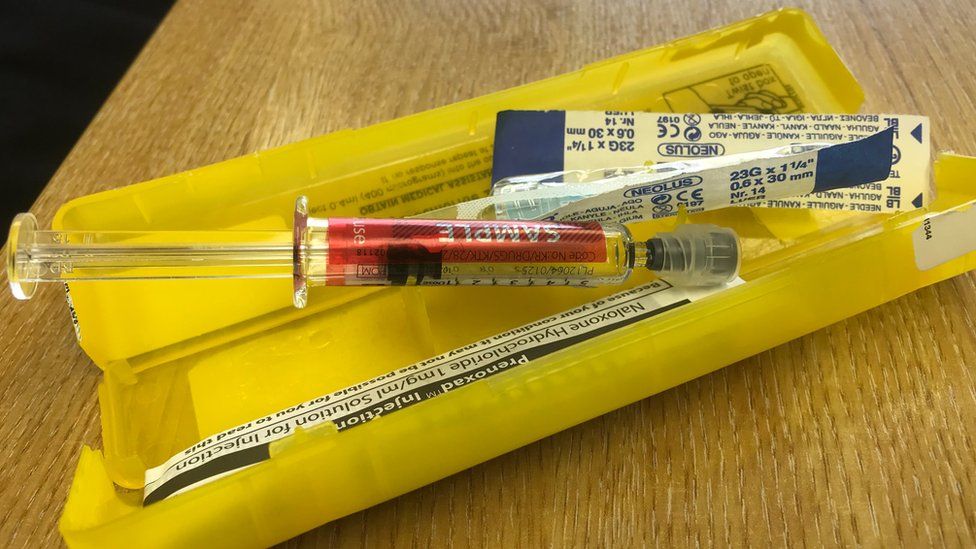 Dundee is seen as a city on the up but it has a drug problem so acute that charity workers are handing out emergency medical syringes to try to keep users alive until the paramedics arrive.
Fake valium, often used in combination with drugs such as heroin, has become the scourge of housing schemes and cities across Scotland.
But away from the swish new waterfront buildings, Dundee in particular has seen a steep rise in deaths, leading drugs workers to offer what they call a "honest and realistic" response.
Between April and October last year more than 30 people died from drugs overdoses in Dundee - and more than half were found to have Etizolam in their system.
Etizolam mimics the effect of diazepam-based drugs like valium but is actually much stronger.
Because they are so cheap, users might take 20 or more at a time.
These addictive sedatives are illegal imports from Europe and beyond, including places like China.
One user told me: "It's like a normal valium hit for the first half and hour and then after that you can either get ones that are no good or ones that make you think 'where have I been? What have I done?"
Another said: "You maybe feel nothing for 10 or 15 minutes and the next minute you are sleeping.
"After that you wake up and do whatever you are doing but you don't know where you are."
He described it as being like a "zombie" and told me how he found a bus ticket for a journey into Dundee town centre in his pocket but had no recollection of going anywhere.
What is the appeal of taking a drug when it's so destructive?
Cheryl and Candice used to take them but are now clean and work as advisers for Addaction in Dundee.
Candice says she took fake valium because it meant she did not have to face the reality of life as a heroin or methadone addict.
"If you have got a rubbish life it takes you away from reality for that wee while and takes all your problems away," she says
Cheryl says the drug also gave her the confidence to shoplift to fund her drug habit.
"You're not caring if you are going to get caught because you think you are invisible," she says.
The fact that many users of fake valium also take drugs such as heroin or methadone compounds the problems. This so-called poly-drug use can have deadly results.
Det Insp Allan Elderbrant, of Police Scotland's safer communities unit, says that is because users' symptoms become so suppressed they simply stop breathing and die.
He says: "There are a significant number of deaths where it is poly-drug use.
"Heroin and methadone, when they are taken with depressants like benzodiazepines, which are respiratory depressants, then there is a significant increase in the potential for drug overdose."
Dundee City Council has created a drugs commission involving the NHS, the police and drugs agencies to combat the problem.
Dave Barrie is overseeing the roll out of emergency kits by the substance abuse charity Addaction Dundee.
The kits consist of a preloaded syringe plus two needles containing the drug Naloxone which counteracts the effects of opiates like heroin.
It is part of national programme which has already seen more than 30,000 kits and associated training given out across Scotland since 2011.
Mr Barrie says: "It is pretty much always enough to revive your breathing fairly instantly.
"For all of the people that have passed away in Scotland, if ever single person had a friend who was able to administer this, many of those overdose fatalities could be avoided."
However, he admits that giving drug users a way to recover from overdose has been considered controversial.
"This is very much about being honest and realistic," he says.
"There are hundreds of people losing their lives in Scotland. Dundee is the worst in Europe just now.
"This is very much an extension of first aid."
"We need to have evidence-based tools available to keep people alive."
If you can keep people alive, there is hope.
Candice and Cheryl's drug use nearly killed them.
Both ended up in intensive care fighting for their lives but with help they both beat their addiction.
Candice says it was not easy.
"You need to break your life away and rebuild it," she says.
Cheryl says: "In 2016, a lot more people were dying and I did not want to be one of them.
"I wanted to do something and see my kids again so I went away to rehab and when I got there I saw other people I had been in jail with and thought 'if they can do it I can do it'."
Why is the problem worse in Scotland?
Neil McKeganey, of the Glasgow-based think tank The Centre for Substance Use Research, has been studying drug addiction for decades.
He says: "It has always surprised me the extent to which there is a wish to almost annihilate existence through excessive consumption.
"For whatever reason it is more prevalent among drug users in Scotland, certainly more than anywhere I have interviewed drug users."
For Prof McKeganey the problem has a long history.
He believes the lingering legacy of widespread medical use dating from the Sixties is part of what has spread the appeal and availability of valium.
"The liberal prescribing of valium has actually turned that drug into a commonplace through social acceptability," he says.
"It has created a fertile terrain for its widespread use and its availability now in fake form."
But no-one saw quite where valium would end up 50 years later, increasingly a street drug of choice in places like Dundee.
Some have even nicknamed the drug "Scotland's little helper".
In Dundee, Coleen says her daughter, who is addicted and currently in jail, faces a difficult battle when she comes out of prison.
Coleen says: "It does not matter where you go they are there.
"Sometimes I think you are safer being in prison.
"When they come out they are going to take even more. That's when you start seeing deaths."
Related Internet Links
The BBC is not responsible for the content of external sites.