Ruth Davidson named on Time magazine influential people list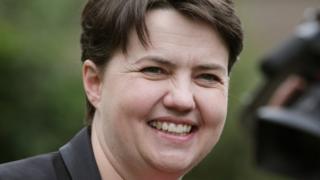 Scottish Conservative party leader Ruth Davidson has been named by Time magazine on its annual list of the world's most influential people.
The US magazine and website says the Time 100 is not a measure of power but a recognition of individuals "whose time is now".
The 100 also includes world figures such as US President Donald Trump and North Korean leader Kim Jong Un.
Other Brits include Prince Harry and London Mayor Sadiq Khan.
The list is split into pioneers, leaders, titans, artists and icons.
Ms Davidson is chosen as a pioneer, alongside US comedian Tiffany Haddish and snowboarder Chloe Kim.
Scottish historian Niall Ferguson, a senior fellow at Stanford's Hoover Institution, writes in the magazine that the Conservative Party looked as "dead as a dodo in Scotland" and owes much of its resurrection to Ms Davidson's "refreshing, rambunctious style".
The 39-year-old Edinburgh-born politician worked as a BBC journalist before entering politics in 2009.
Just two years later, she was elected the Scottish Conservatives' leader.
She has since opposed Scottish independence and Brexit as well as presiding over a revival in the fortunes of the party in Scotland.
Ferguson also said Ms Davidson "stood out" as a proponent of same-sex marriage.
A spokesman for the Scottish Conservatives said: "Ruth's extremely honoured to be included on such a list.
"And while she's flattered to receive an accolade from across the Atlantic, her full focus remains on her job here in Scotland."
Ms Davidson is one of a record 45 people on this list under the age of 40.
At just 14, British actress Millie Bobby Brown, star of Netflix drama Stranger Things, is the youngest ever to make the list.
Meanwhile, former US President Barack Obama, who has said that his greatest frustration as president was the failure of commonsense gun-safety laws, nominates the Parkland, Florida, teenagers who organized the March for Our Lives.