LGBT Scots 'still face workplace bullying'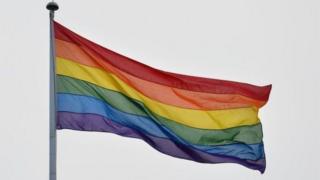 Workplace bullying is still a serious problem for many LGBT Scots, according to the charity Stonewall Scotland.
A new report says one in six people have experienced negative comments or behaviour from colleagues after coming out at work.
Stonewall Scotland say employers have shown a commitment in recent years to being more inclusive.
But they point to new research that highlights continuing problems for LGBT staff.
A survey of almost 800 LGBT employees found that one in six have been discriminated against by colleagues.
Two in five trans employees have experienced the same type of behaviour from customers or clients.
The charity wants employers to adopt a zero tolerance approach and makes sure it is clear how to report anti-LGBT bullying.
'Happy staff'
The benefit, they say, will be happy staff who perform better.
Stonewall Scotland director Colin Macfarlane said: "Over the last few years employers across Scotland have shown real commitment to their LGBT staff by taking action to become more LGBT-inclusive workplaces.
"However, our work report shows not every LGBT person feels supported by their employer.
"The fact that two in five trans staff have faced negative comments or conduct from customers or clients shows just how much still needs to change.
"Organisations who can get it right reap the benefits of happy staff who will perform better.
"It's been proven that diversity among staff leads to a more productive, positive and creative workplace environment.
"We need more organisations and businesses to come out for LGBT equality and show their commitment to their LGBT staff and colleagues."