Could Norway's Barnehus work in Scotland?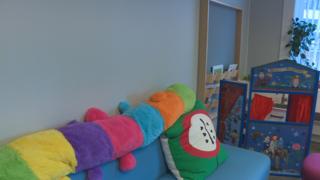 Norway's radical method of dealing with child witnesses and victims of sexual assault has attracted interest from senior judges and ministers in Scotland.
The Barnehus or Children's House model was introduced in Norway following widespread criticism of low prosecution and conviction rates in relation to child abuse.
The aim is to offer treatment, as well as interview and support the children in one centre - away from the police station and courtroom.
"It is like coming to Grandma's house because everything is so welcoming and there is always food in the kitchen," says Linnea, who gave evidence there more than two years ago.
"You get your own room and it just feels safe," she says.
Linnea went to the Barnehus because from the age of 12 to 14 she had been groomed online by a man twice her age.
He persuaded her and 48 other children to send him inappropriate sexual images. Earlier this year he was convicted and sentenced to 15 years in prison.
At the Barnehus, children as young as two are interviewed by a police officer.
The interview is watched by lawyers and experts in another room. If fresh evidence emerges the defence can request additional interviews.
Linnea was 15 when she went to the Barnehus for a one-to-one with a specially-trained police officer.
Afterwards she received a year of counselling from specialists there.
Linnea counts herself lucky.
Rape trial ordeal 'could happen again'
If her assault had taken place a decade earlier she would have had to go to a police station and then potentially a courtroom.
"If I had known that then I probably would have not responded when the police contacted me because I felt a lot of shame around the whole thing," she says.
"So if I did not know I could come here and tell everything in a private room with one police officer then I probably would not have admitted it was me he was talking to."
Additional training
Norway introduced its new way of dealing with child witnesses and victims of domestic violence in 2007.
The first Barnehus was established in Iceland in 1998 and Sweden has similar interview systems for children.
Police officers in Norway have to do a three-year degree.
To do forensic interviews with children there is almost two years of additional training.
In the Oslo Barnehus, Superintendent Hanne Blomfeldt has interviewed children as young as two about abuse and violence.
She said: "Our method would be based on letting the child use their own words. Telling us as much as possible in a free narrative way.
"I can use active listening.
"They all start and maybe they think they're done and I can say 'ok I hear what you're saying. Tell me more about that. What happens next?'
"And we can get information that we check later."
In the Barnehus, children also undergo medical examinations by those specially-trained in trauma.
Supt Blomfeldt says that she has interviewed a number of children who have been persuaded to cover up abuse.
On one occasion a child who originally said nothing had happened was found with 32 separate injuries by the medical examiners.
She then opened up about what had happened.
Astrid Johanne Petersen is the director of the Barnehus in Oslo.
She says the new method was adopted to tackle growing criticism that Norway was failing to protect child victims and failing to take cases to court.
"Ten years ago when the Barnehus was set up it was a huge problem because very few cases were reported to police and very few cases went to court," she says.
"It was a hidden problem because we did not talk to our children about these kinds of cases.
"Today many cases are going to court and many are being reported."
The Norwegian system is now admired around the world, that is why Scotland's most senior judge went there when he was looking for a better way of gathering evidence and protecting child witnesses - and he was impressed.
Lord Carloway told the BBC he wants to introduce the Barnehus model for children in Scotland but ultimately broaden it out to adult victims of sexual crimes too.
He said that in his 2015 review of evidence and procedure he had highlighted the unacceptable case of a five-year-old who was cross-examined in court for two days.
The judge said his review had envisaged a system, like the Norwegian model, where children under 16 would have their evidence taken in a single interview by specially-trained professionals.
"Although there would be input from lawyers as to what questions would be asked, there would be no actual examination or cross-examination by a lawyer in that setting," he said.
Lord Carloway said Scotland needed to do more to protect children and that the right to a fair trial for the accused would not be affected.
"We could probably introduce it more effectively for cases that involve children," he said.
'It is humane'
The judge suggested beginning with children under 16 in serious cases in the high court before extending it to under 18s and other vulnerable witnesses.
He said: "The proposals at the moment - the long-term proposals that we have - certainly propose an end to traditional cross-examination when one is dealing with people under 16 - in other words we should move much more closely to the Norwegian model than we have at present."
In other cases, not involving children, the proposal is not to do away with cross-examination, Lord Carloway said.
Leading defence counsel Derek Ogg QC said the Norwegian system was a radical model that was "not without its critics".
He said: "I like the idea of a purpose-built building and I like the idea of support systems in place and after-care support in place for witnesses.
"That is all great stuff. It is humane. It is modern.
"But what I do not like is where the defence don't get to cross-examine and the prosecutor does not get to cross-examine but a police officer does. How is that going to be a fair trial?"
Scotland's Justice Secretary Michael Matheson has visited a Barnehus in Iceland and is keen to see a similar model introduced in Scotland.
He said: "I'd like us to start to test out that concept in Scotland, about having a change in our approach and no longer having children in the court system, and the greater use of pre-recorded evidence.
"But we have to balance that also against the rights of the accused."
The Scottish government will publish a vulnerable witnesses bill by the summer, which will focus on encouraging greater use of pre-recorded evidence in court.