Scottish stroke patients 'need more rehab information'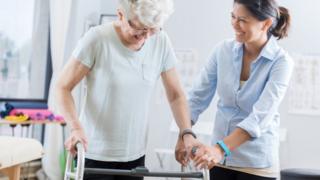 Stroke survivors' chances of making the best recovery are being put at "significant risk" due to lack of data on the availability of rehabilitation, according to the Stroke Association.
The charity said more information was needed about the availability and use of rehabilitation therapy in Scotland.
The Scottish government said it was committed to ensuring that stroke patients had access to the best care as quickly as possible.
It said deaths from strokes had fallen.
The Stroke Association said that without the relevant information, they do not know what support stroke survivors are receiving, especially after discharge from hospital.
And it said discussions with those affected by strokes suggested they were not getting enough information which the charity claimed was putting their recoveries at risk.
'Affected confidence'
Andrea Cail, Scottish director of the Stroke Association, said: "Rehabilitation support such as physiotherapy, occupational therapy or speech and language therapy can help people affected by stroke to relearn basic skills such as how to walk, talk, wash and dress. This is crucial to support independence.
"It is vital these services are available to people who would benefit from them.
"It is still the case that not everyone gets the help and support they need and much more still needs to be done."
She added: "We don't have the data and information to demonstrate what rehabilitation services are available and where, and who is accessing and for how long. We need this information to understand where the gaps are and drive forward the necessary improvements.
"That's why we are today calling on the Scottish government to routinely collect and publish details of the rehabilitation stroke survivors in Scotland receive.''
Graeme Clark, 42, from Edinburgh, who has three children, had a stroke while taking part in a triathlon in June 2015. He was diagnosed with a left-sided brain haemorrhage and was left with physical and communications disabilities.
"It was vital for me to get back to work to care for my wife and children," he said.
"I feel I didn't receive enough speech and language therapy as a result of my stroke. It affected my confidence, my relationships and my job prospects.
"I would have definitely benefited from more support."
'Clinical priority'
A Scottish government spokesman said: "We are committed to ensuring that people who have had a stroke have access to the best possible care as quickly as possible and deaths from stroke have fallen 38% between 2006 and 2015.
"These figures show that our strategy for stroke is delivering real improvements for those who have had a stroke, but we want to go further.
"The Scottish government's Stroke Improvement Plan affirms stroke as a clinical priority for NHS Scotland. The plan outlines key priorities and actions to improve stroke treatment and care.
"We are working closely with clinicians, third sector partners and those who have had a stroke to support improving outcomes, and are committed to ensuring that people who have had a stroke have access to the best possible care as quickly as possible."
This month is the UK's Stroke Awareness month, Make May Purple for Stroke.