On-air talent lead 'angry' STV staff to outdoor union meeting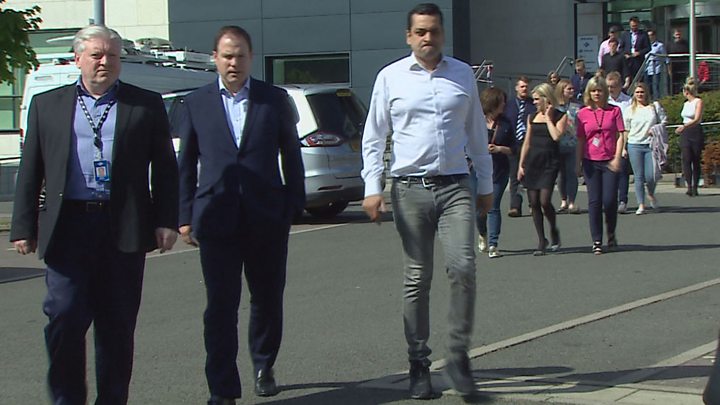 On-air presenters at STV led staff from the broadcaster's Glasgow-based HQ in a demonstration of defiance over plans to make 59 job cuts.
Bosses said loss-making STV2 would shut next month with investment shifting to the main channel and online streaming.
Political editor Bernard Ponsonby, news anchor John MacKay and sports presenter Raman Bhardwaj were first to walk out to the outdoor meeting.
Union official John Toner told the BBC that staff were "extremely angry".
The Scotland organiser for journalism union the NUJ said: "We are horrified and extremely angry at the decisions that have been taken by management and the way that the decisions have been communicated and by the lack of information surrounding the announcement that has been made today.
"We are angry and we want to do something about it."
The closing of STV2 will result in 25 jobs going and a further 34 will also be lost as part of changes to news output.
STV said the reorganisation of services would result in savings to the company of about £2m a year.
The announcement was made as part of a three-year strategic review by new chief executive, Simon Pitts.
He said there would be renewed focus on online streaming, with a new ad-free subscription version of the STV Player launched for the first time.
The company also said it planned to invest £15m in new original content over the next three years.
Mr Pitts said the decision to axe STV2 was in part driven by anticipated competition from BBC Scotland's new channel, which will begin broadcasting next year.
The announcement comes after STV revealed its pre-tax profit had slipped slightly from £18.3m in 2016 to £18m last year.
STV2 was launched in 2017, bringing together the company's local TV stations for Glasgow and Edinburgh as well as proposed local stations for Ayr, Aberdeen and Dundee.
However, over the 12-month period, the channel lost £800,000.
Mr Pitts said: "As a result of the challenging economics of local television and anticipated increased competition from BBC Scotland, we have taken the difficult decision to close our loss-making STV2 channel to focus our future content investment on STV and the STV Player."
He added: "This is a positive vision for STV that will re-establish the company as a creative force in Scotland and beyond.
"We will invest in creative talent, new original programming and digital to ensure STV becomes Scotland's home of news and entertainment and delivers long-term value for advertisers, shareholders and viewers alike."
STV's main business is the Channel 3 service for central and northern Scotland - it is the only part of the network that is not owned by ITVplc.
Analysis by Jamie McIvor, BBC Scotland correspondent
The decision to close STV2 and sell the licence to local TV company That's TV was perhaps predictable.
From the start, there was surprise that a major company like STV had got involved in the local television project.
The local TV network across Britain was the brainchild of former culture secretary Jeremy Hunt.
He hoped it would engage viewers with the kind of local issues which are not covered by major channels - for instance the detailed work of councils - and help make up for the decline of the local press.
STV was the only major media company to apply for local licences and the decision did raise eyebrows.
Many in the established media wondered if the scheme - whatever merits it might have - was ever going to be financially viable, far less make money.
Local stations
The original vision was for local TV stations covering Glasgow, Edinburgh, Ayr, Aberdeen and Dundee - but latterly STV2 was, in effect, a Scottish national service with little truly local content.
STV2's commercial failure came despite the political support and goodwill some gave to its news programme integrating Scottish, UK and world news. Last week its magazine show Live at 5 won a prestigious industry award.
That's TV already owns a large number of the local stations south of the border.
Most of the licences there are owned by either That's TV or rival Made TV.
If anything, it could be even more of a challenge for That's TV to make a big impact.
Its service won't have the benefit of an established brand name or promotion on a major channel.
Meanwhile, there are questions over whether any new local TV licences will be advertised by regulator Ofcom.