MSPs warn over planning 'power grab'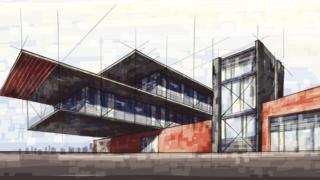 MSPs have called for "serious changes" to be made if reforms to Scotland's planning system are to be approved.
The Scottish government has put forward its Planning Bill in a bid to overhaul the current system and give local people more of a say in the process.
Holyrood's local government committee has already called for widespread changes to the legislation.
And despite voting it through at stage one, opposition MSPs slammed the bill as a "power grab" by ministers.
Planning minister Kevin Stewart said the government would bring forward amendments to reflect the committee's recommendations, and would give "careful consideration" to proposals from opposition parties.
The government pitched the Planning (Scotland) Bill "reforms that will strengthen the planning system's contribution to inclusive growth, housing and infrastructure delivery and empowering communities".
Mr Stewart has insisted that it will see powers "flow to communities" via local place plans, which will "allow communities to have a greater say in their neighbourhoods and areas".
However all of Holyrood's opposition parties joined the local government committee in raising concerns about the provisions as they are currently drafted.
Scottish Conservative housing spokesman Graham Simpson said the bill was "all about power", saying it was "completely unacceptable" that "all roads lead to Edinburgh" in the legislation.
He said: "This bill only pleases the SNP government. Housebuilders say it doesn't deliver for them, environmentalists say it doesn't deliver for them, and communities are equally unimpressed.
"People feel planning is not working for them and that's something we have to change. That's why this bill needs ripped apart so we can produce an act that delivers."
Labour's Monica Lennon said the bill was "at best underwhelming", saying her party would bring forward amendments to "rebalance the planning system so that genuine community participation can thrive".
She said: "The planning appeals system needs reformed and the SNP defending the status quo is inexplicable."
Green MSP Andy Wightman said public trust in the planning system had been "eroded", and said "serious changes" needed to be made if the bill was to pass.
He said the bill as it stands "concentrates further power in the hands of ministers, pays lip-service to genuine public engagement and removes valuable strategic planning powers".
The Scottish Lib Dems were the only party which opposed the bill in the stage one vote, with MSP Alex Cole Hamilton calling it a "pathetic power grab".
He said: "This bill assumes that civil servants and ministers know more about the needs and aspirations of local communities than democratically elected local councillors."
'Very robust debate'
Mr Stewart said he would "expect nothing less" than "very robust debate" about planning.
He said: "There is a great deal of consensus on the outcomes that we are seeking, but it is also inevitable with planning that there will be different views on how the system should work.
"Planning needs to work for all of us, and the changes that we introduce to the system also need to work for all.
"I am sure that members will agree that we will have to steer a course through all those different views to arrive at a new, coherent and streamlined framework for planning that is fair and inclusive and works for Scotland."