Can a policeman and a basketball raise pupil attainment?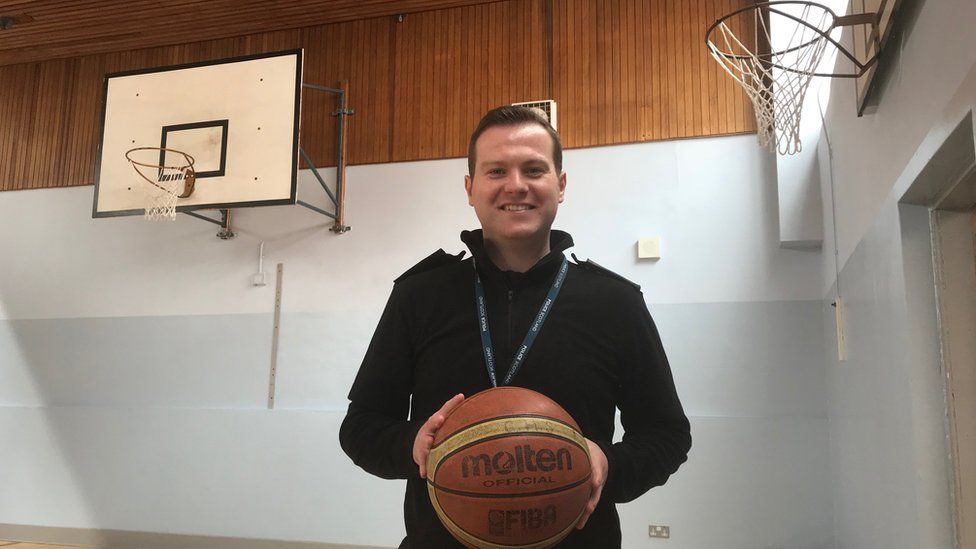 How does a police officer bouncing a basketball in the gym hall help raise attainment? It is not the most obvious solution but at Govan High they have been looking both inside and outside the box.
In an educational world where schools have to follow strict "dos and don'ts" sent down from on high, the Scottish government's £120m attainment fund gives head teachers like Nancy Belford some welcome breathing space to tackle the issues she feels most need addressing.
According to Ms Belford, the "low aspirations" of some pupils and families is one problem that has to be tackled.
"There are some young people who are coming to us and they are maybe the third generation of unemployment coming from a household," she says.
Govan High, in the southside of Glasgow, gets an extra £170,000 of pupil equity or PEF funding and it is up to the head teacher how the money is spent.
Ms Belford has employed numeracy and literacy professionals, as well as teachers specifically tasked with raising attainment
Her deputy, Sonia Kerr, says the cash is hugely empowering even if the responsibility of spending it wisely can be rather daunting.
"We know the pupils inside out and more importantly we know the families," she says.
"We find out their needs and, of course, we are then best-placed to meet those needs."
She says one of the major changes has been making pupils think of careers they had never considered before.
"This year one of our fifth years is moving on to study medicine," she says.
"We have another studying optometry and a huge variety of other career choices."
"In terms of raising aspirations, we are definitely moving in the right direction."
And that change seems to be infectious.
Govan High pupils like 16-year-old Marren Gregory, Ailie Porteous, who is 17, and 15-year-old Rachel Thomson are keen to broaden their horizons and opportunities.
Rachel told me she would love a career in the law.
"It is a mindset where you can achieve what you want to," she says.
Ailie says she keeps changing her mind about career prospects.
"There are so many options and no matter how many times you change your mind the teachers are always positive about it," she says.
"They are never negative and say you should think about something more practical."
Marren is keen to follow a pupil from the previous year who went to study medicine.
"I looked at her and thought 'If she can do it and she's from here, what is stopping me from doing it?'," she says.
Geography teacher Michael McCarron who is in charge of educational attainment for learning and teaching has brought in some novel methods such as a technique called Zoom In to spark engagement in lessons with those who harder to reach.
Mr McCarron says it is a bit like the old game show Catchphrase where it reveals a square one stage at a time.
"You try to explore the young people's thoughts," he says. "You go off at tangents at times."
"I like to think of it as a teacher's toolkit.
"Just having enough techniques and strategies to keep people motivated and engaged."
So back to that bouncing basketball in the gym hall.
As well as in-class measures in areas such as literacy and achievement plus a focus on career planning, some of the money is being used for linking effectively with the world outside the school, forging links with the wider community in Govan and beyond.
One of those links is with the police, with a dedicated campus officer for the school's 425 pupils part-funded by PEF and part by Police Scotland.
Govan High is now the fifth school in Glasgow to have a campus police officer and elsewhere it is proved to have worked.
And as Craig Murie is a former PE teacher, being in the gym bouncing a basketball is a natural place to be, even if he is in police uniform.
But his presence did raise a few eyebrows at first.
"There was definitely an element of distrust when I first came in and a lack of understanding of why I was there," he says.
"There was a perception that there must be a problem with the school, when in fact it is the opposite."
He says the move is "proactive" and there are plenty of examples of him being able to intervene early to prevent much more serious problems at a later stage.
PC Murie says that is much more difficult to do as a "response" officer, who moves straight on to the next call.
Another part-funded post comes through teaming up with Rangers Football Club who through their charity foundation are helping with vulnerable pupils in danger of dropping out of school, by mentoring them, developing reading and sports skills, as well as general employability.
Students can also access mentors from the likes of Strathclyde University to demonstrate that the ivory towers of academia on the other side of the River Clyde are not only visible from Govan but are open and attainable as well.
Critics, including the Scottish Conservatives, argue that making sure Scotland's schools recruit and retain enough skilled teachers would make more of a difference than campus cops and link-ups with local football clubs.
But, Ms Belford says she hopes the results to-date and those expected from exams just completed will speak for themselves.
"We have already seen quite a significant improvement in attainment among our young people," she says.
"We have managed to change a culture, we have managed to raise those aspirations and our young people are very focussed on those exams and doing well.
"Our predictions for August are looking positive but the proof will be in the pudding I guess."