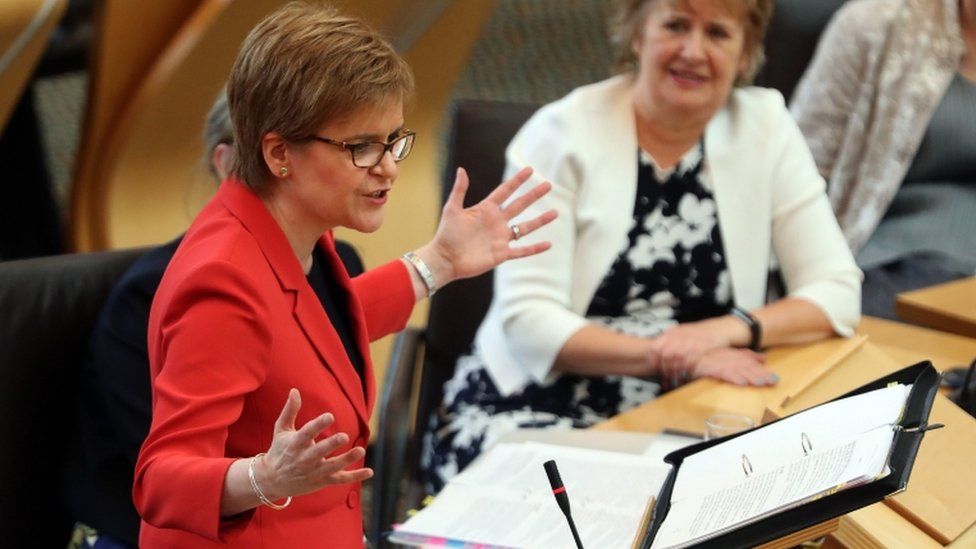 It must have seemed like a grand strategy in advance. On paper, no doubt, it looked great. But just as football isn't played on paper, neither is parliamentary politics.
The best laid schemes, as Ayrshire's finest reminded us, gang aft agley. So it was for Ruth Davidson in questioning the first minister today.
Not that she was entirely abandoned to grief and pain. But there wasn't a whole lot of promised joy either.
The Tory leader's wheeze? She planned to list a series of issues - higher education, crime, the NHS, farming subsidies - and then triumphantly proclaim that Nicola Sturgeon was far too busy obsessing about independence to tackle them.
Snag is the FM saw it coming. Rather than wait for Ms Davidson's moment of glory, she essayed a pre-emptive strike. And, friends, it worked.
Ms Sturgeon read out a long - and I mean long - list of actions by herself and ministerial colleagues in recent days. As the list threatened to stretch out to the crack of doom, Ms Sturgeon paused and asked her opponent: "You want some more of this...?"
The Conservative leader could do nothing but tamely consent, from a sedentary position. Thus licensing the agony to continue.
When, after what seemed like days, Ms Davidson was called to rebut, her insistence that the first minister was focused solely upon independence sounded somehow out of kilter. Prompting a decided callooh callay from the SNP benches as they chortled in their joy.
But the pass was sold by then. The Nationalists laughed all the more, taking their cue from the loud guffaws issuing from the environs of the deputy first minister, John Swinney.
There was a further attack upon Ms Davidson and the Tories. It came when Labour's Neil Bibby raised the case of Denzil Darku, a student nurse who now faces potential deportation by the Home Office.
In response, Nicola Sturgeon praised Mr Darku warmly, as a model citizen. MSPs began to applaud. Then, as they noticed that the Tory benches were sitting on their hands, the applause deepened. It was by now aggressive applause, challenging the Tories directly. A powerful moment.
In his turn, Labour's Richard Leonard also accused the FM of slipping up. Whereas Ms Davidson had ranged far and wide, he was more effective by restricting himself to a single target, that of radiology scans, their scarcity.
However, at the close, the Labour leader could not resist his "delenda est Carthago" moment. Wouldn't it be much better, he opined, if the FM stopped talking about a further independence referendum - and stuck to sorting out the NHS?
Ms Sturgeon rose slowly, no doubt recalling the line she had rehearsed in front of the mirror. Isn't it remarkable, she asked the presiding officer (and anyone else listening) how her opponents seemed to be obsessed with just one topic, independence?
It worked. It was effective. But of course, as Nicola Sturgeon well knows, it is more than a mite specious. It was not Richard Leonard nor Ruth Davidson who commissioned, received and published a report on Scotland's economy under independence.
That was Sturgeon, N. Just as it was the first minister who rivalled Donald Trump in tweet frequency, as she set out her rebuttal of criticisms drawn by the growth commission.
Is Ms Sturgeon upset at the controversy which the commission has generated, including among members of the wider independence movement? Not a bit of it.
The aim was to get people talking about the "whether" of independence, rather than the when and how. She will, however, have to return to those tricky topics in due course.
On the day, perhaps the most effective of all was Willie Rennie of the Liberal Democrats. Granted fewer questions, he made the most of his limited contribution.
Why was it that treatment waiting times, supposedly guaranteed by statute, were routinely being missed? When, he inquired, would the FM obey her own law?
Ms Sturgeon spoke of the efforts under way, but felt obliged to concede that the performance was unacceptable.