Rise of 43% in homeless households in hostels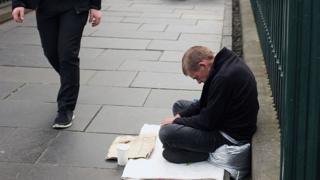 The number of homeless households in hostels in Scotland has increased by 43% since 2010, research indicates.
The study, commissioned by Social Bite, found almost 3,000 households are facing such temporary arrangements.
Backers of the study said living in hostels can leave people "marginalised and stigmatised".
Housing minister Kevin Stewart said the Scottish government has pledged to "transform" temporary accommodation.
The research was carried out at Heriot-Watt University for the Homelessness and Rough Sleeping Action Group (HARSAG).
Emergency measure
Its chairman Jon Sparkes said: "Temporary accommodation is not a housing solution, it is an emergency measure which should only be used while permanent housing is sought.
"When it is used, there should be the necessary support available for each person, the quality should be of at least a minimum enforceable standard and where basic provisions are not met then people should not have to stay for more than seven days."
The report recommends improving the quality of temporary accommodation, while taking steps to reduce the need for it.
Josh Littlejohn, the co-founder of Edinburgh-based social enterprise Social Bite, said: "If we are to work towards an end to homelessness, then we must transform the temporary accommodation system where many of our most vulnerable people are forced to live.
"We know all too well from our experience of working with homeless people that when someone lives in the 'homelessness system' of hostels and B&Bs for a significant period of time, they become increasing marginalised, stigmatised and mental health challenges can worsen."
'Bold and visionary'
On an average night, more than 10,000 people in Scotland will be sleeping in temporary accommodation.
Mr Stewart described recent recommendations by the Homelessness and Rough Sleeping Action Group as "bold and visionary".
"The recommendations will play a vital role in helping us meet our pledge to transform temporary accommodation," he said, "and end homelessness, backed by our £50m Ending Homelessness Together Fund.
"I am also committed to ensuring that we keep engaging with people who have direct experience of homelessness, front line workers and service providers to take these recommendations forward in partnership with local government."