Kimberley Benson aka Viper: 'People wrote me off because of my size'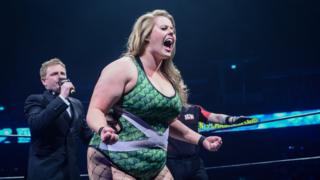 Viper, the vixen of violence, has adoring fans around the world but 26-year-old Kimberley Benson says she has had to fight to overcome stigma about her size.
Kim has secretly been in love with watching wrestling since she was nine but she didn't take it up until she was 16 after a boyfriend told her about a nearby training school.
She says: "It never occurred to me that it was something you could do.
"I got totally beat up but I loved it. I went every week for about seven years."
Kim, from the small North Ayrshire town of Kilbirnie, is now 26 and a star of the wrestling circuit.
She regularly has bouts around the UK as well as Japan, where she is a big name.
Viper holds championship belts with numerous boxing organisers and is in constant demand but she admits it was a struggle at first.
"When I started wrestling, certainly in my training school there wasn't many other girls doing it, and all the women wrestlers on television were like supermodels," she tells the BBC documentary Fight Like a Girl.
"Women's wrestling was not respected.
"It was difficult for me because I'm a girl and because I'm a big girl.
"I think a lot of people took a look at me and thought 'she's not going to last five minutes'."
"I can't express some of the things I have gone through in my wrestling career.
"People wrote me off because of my size and what I look like and thought I was some stupid, blonde girl who was never going to amount to anything."
But Kim says she learned to embrace her size and donning her trademark leotard and fishnet tights helped her to build up the character of Viper, the babe of brutality.
Kim says she is proud to have fought the "stigma" and not to have let people's "stinging" comments get to her.
Her wrestling bouts are not for the faint-hearted.
Kimberley's father Niven says he finds it very difficult to watch his daughter getting beaten up.
She is regularly thrown from the ring and slammed in to the canvas, not to mention having a chair smashed across her back.
She admits she often feels like she has been hit by a truck but says wrestling is what she lives for.
"I love it. As soon as your music hits and you hear that roar it is like a chemical reaction and that's when the good feeling comes, all your endorphins are buzzing," Kim says.
Despite her success, her father says Kim still struggles to pay the bills and works part-time in the family coach-hire business.
The flexibility of working with her mum and dad allows her to disappear for long periods when she travels abroad.
In America, WWE wrestlers make big money and Kimberly has appeared over there at a special event under the name Piper Niven.
Another popular destination for Kim is Japan, where female wrestling - known as joshi puroresu - is huge.
It has an international reputation for the quality of its wrestlers.
In Japan, Kim fights with Stardom, an all-female wrestling outfit.
"I love that in Japan it is the complete wrestler life," Kim says.
She has travelled there seven times and has built up a substantial following but she says her first tour was "awful".
"The first time I came to Japan I nearly gave up.
"It was really hard. I was on the phone to my mum and dad every day about how much I missed them and how hard it was.
"That's when I question maybe I was not cut out for this. 'May be this is not for you'."
She said that compared to the Japanese wrestlers she felt huge and the fans made her very conscious of her size.
"It was the same thing I have had throughout my career, feeling like I was written of because of my size," she says.
"But I came to training and I showed them I am really passionate about this and I'm talented and I'm a hard-worker and I gained their respect and eventually their love."
The pressure of the tour is intense, with fans expecting to meet her after shows.
But she says she tries to find time to "experience" the country and there is a growing camaraderie among the "foreigners".
"Being in the spotlight is the loneliest place in the world," says Kim.
"I have great friends and we are all there for each other but it is hard to build relationships when you don't know what side of the world you are going to be on.
"You belong to everybody and nobody at the same time."
Wrestling promoter Mark Dallas says Viper has succeeded because she is the "full package".
The man behind Scottish wrestling's ICW championship says: "We don't give anyone a belt in wrestling unless they are a really big star.
"You need to look like a wrestler, you need to be menacing, you need to have charisma, you need to be able to talk on the microphone, do all the wrestling moves and you need to be able to take the punishment because it is an incredibly tough job."
He says: "Viper is relatable, she's likeable, she's a positive role model. She's got that 'It' factor that you cannot teach."
Kim may have fought to the top of the UK wrestling world but can she stay there?
She says every wrestler is always asking if the physical pain is worth it.
"Is it worth walking around like an old decrepit person when you are just 26," she says.
"I guess for some people the pain wins, they just give up."
"Some times I wonder if they are the smarter ones. The ones that see sense and say 'I'm going to stop killing myself'.
"But what is a dream worth?"