Learning to live with my baby son's death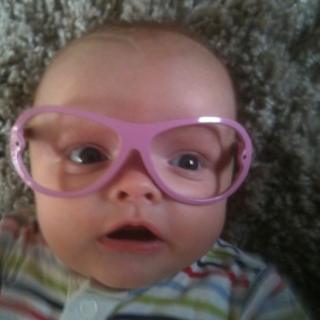 It was just a simple trip home from the shops. A young mum pushing her two sons in their double pram as they went about their daily business.
But it ended in unimaginable tragedy for Nicole Bowles.
Her baby son Ben died after a bag of shopping slipped from the top of the pram and covered his face.
A horrible accident - the kind that is every parent's worst nightmare.
The pain, the shock, the anxiety is as vivid now for Nicole as it was on that day nearly six years ago.
But during Child Safety Week 2018, she is determined to highlight her family tragedy in a bid to make sure others don't go through the same heartache.
She told BBC Scotland's Kaye Adams programme how that dreadful day unfolded.
Nicole said: "We did the usual mum stuff. We went into town, got some formula. He had reflux so we had lots of different types of formula.
"We filled the basket underneath the pram, with Alistair (Ben's older brother) in the seat on top of the pram.
'Natural habit'
"Then I went to the butcher's to get some chicken for tea that night and, because the basket underneath was filled, I naturally put the chicken on top of the hood of the pram. I didn't think anything of it - I had done it thousands of times before with purse, keys, shopping. It was a natural habit.
"A 10-minute walk home and at some point during the walk home the chicken had fallen through the hood and landed on Ben's face. When I went to go and remove him from the pram, I was greeted by the sight which led to me giving him CPR. He was not breathing, he was blue, he was floppy.
"My friend went and got help and they called the ambulance and called my husband who came back from work. The ambulance crew managed to get him pink again which was an amazing sight for me.
"They took him to the hospital...where me and my husband were greeted by the health care professionals saying he was hooked up to machines.
"As the rest of the day unfolded, we had to make the decision to stop treatment because he was not responding any longer. And so, later that afternoon, me and my husband got to say goodbye to him in the most peaceful and beautiful way, but it wasn't what we expected for that day."
Nicole was living with her husband and their two sons in Helensburgh in Argyll and Bute at the time of three-month-old Ben's death.
The couple have since had two other children, with Toby and Ed joining eldest son Alistair.
Nicole admits she "desperately wants to wrap them up in cotton wool". But she insists raising safety awareness is the key to keeping them safe while letting them "do what kids do".
She said: "Luckily we weren't investigated (by the police) because I had been with somebody all day. So that element was taken out of it which I really appreciated because I lived in fear of Alistair being taken off me because I thought I wasn't a good mum any more.
"And that's where accidents really come into their own. Yes, children die and that's sad. But with an accident there is someone to blame and I very much blamed myself and spent many years blaming myself for my actions.
"But I have come to terms with the fact that I put the shopping on top of the pram but I didn't make it fall - it was an accident. We've pulled together as a family. We've respected the fact that we're going through something really hard to deal with. We've given each other the space and we trust each other that we don't mean to hurt anybody around us and we just hope that people understand that."
'Nothing feels normal'
Nicole says she no longer feels "ashamed" about how Ben died and wants other families to realise that they are not alone in what they are experiencing.
"You do feel like you are going crazy, because nothing feels normal any more", she said.
"I have felt blame, shock. I have PTSD from the accident. Obviously, having to give your own son CPR is not the most conducive to a healthy mental state. I am left with an over-riding anxiety of what could happen.
"But the reality is bad things can happen - accidents do happen. We have gone on to have two more children and I desperately want to wrap them up in cotton wool, but they have to live their lives and not live their lives in fear.
"I know they have got to walk on a wall. I know they have to jump off something really high because that's what being a kid is all about. I just have to risk-assess everything to make sure that I'm in the safest place possible.
Warning stickers
"The scariest place to me is a car seat. People put their child in a car seat and think they are safe because they are designed for safety. And people become relaxed about it.
"People don't understand why there are limitations on things - the knowledge isn't there. But if we have the information, we can prevent preventable circumstances.
"There is a reason why car seat manufacturers and midwives and healthcare professionals say don't leave a little person in a car seat for more than two hours - don't let them sleep in them. It's because they're not strong enough to support their own heads and they can cut their own airwaves off. It happens, unfortunately.
"The key is people are scared that we will become this 'we're not allowed to do anything' society and that is certainly not what I advocate.
"I do feel like we are living in a world where we've got to wrap everybody up and put warning stickers on everything. In doing that we take away (the element of) pushing your boundaries, knowing your limitations.
"You can only do the best you can with the information you have at the time. So make information out there more accessible, in a less scary manner."